Opinions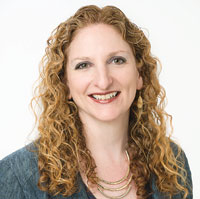 Blog: Color, Natural Materials Headline High Point Market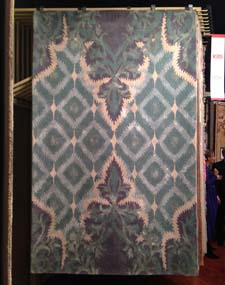 One of One of Bob Mackie's designs with Kas
HIGH POINT, N.C.-Now in its fourth day, High Point Market continues to see several themes within the area rug category. Introductions using metallics or shine were seen, as well as ones incorporating natural or recycled materials or handcrafted looks.
Color remains a strong focus, and many introductions have vibrant hues. Orian's Overdyed line included several saturated styles, including oversized paisleys and ikats.
At Liora Manne, introductions mixed today's colors with traditional designs. In Petra, one traditional design came in three strong colorways, such as a raspberry and green combo. Floating Ink was a design based on a painting technique in both pink and blue colorways.
Central Oriental added a citron color this year, which "people love," said Jim Thompson, vice president of sales and marketing. "We follow furniture trends, and were seeing it in furniture." The company's U.S. facility in Maine continues to expand, as the company just ordered its tenth loom, which should be installed and running sometime in the fall, he added.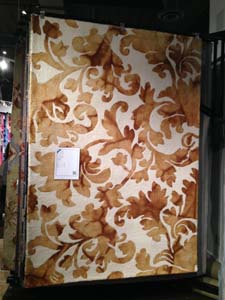 Surya's Belladonna line
Jute and leather are two hot materials in the rug arena, and at Loloi, the Edge collection combines both for a modern look. In addition, the line includes larger sizes, such as 8-by-10 and 9-by-13, which people are asking for and are unusual in this type of look, said Al Mortenson, product design. At $199 for a 5-by-8, "it's a great price point," he added. Loloi also offers larger sizes in the new Vincent line, such as 12-by-15 and 13-by-19. "People just want bigger, bigger, bigger," Mortenson said. Vincent is a handknotted collection that is triple washed.
The modern craft movement was one of the themes at Surya. Grace, a cotton flatweave group, has a crocheted border, while Patch has felted wool pieces cross stitched together. Belladonna is an introduction with a tie-dyed look; the pattern is first tufted and then dyed, and then the background is tufted--or vice versa. In addition to its new bedding category, which included Florence Broadhurst patterns, Surya added outdoor rugs to the Florence Broadhurst line for the first time.
Kas Rugs debuted its Bob Mackie licensed collection. "It happened really quickly," Mackie said of the partnership, and he admitted that he was nervous coming to market, not having seen the rugs in person. But he loved the results, which include such signature Mackie looks as peacock and feather designs in both neutral and vibrant colorways. The 15 designs are handtufted of wool and viscose in India.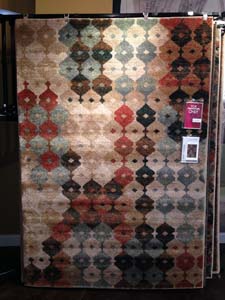 A design from Orian's Soft Touch
Among Nourison's introductions were expansions into new textile categories. The Mina Victory line of decorative pillows now has table linens, table runners and placemats in metallic and laser-cut styles. Its Michael Amini line added pillows, as well as a new rug collection called Palatine, a viscose and wool group in a stately traditional style.
Orian Rugs debuted Soft Touch, a line made of a proprietary polypropylene yarn that feels like micro fiber. The line has a space-dyed look and has styles ranging from contemporary to traditional.
Safavieh ended the day yesterday celebrating its 100th anniversary, joined by its retail partners, International Market Center's Bob Maricich and such designers as Jamie Drake and Thom Filicia. "Our grandfather [who founded Safavieh] would have been very proud," said Ahmad Yaraghi, one of the five brothers running the company today. "We hope to go another 100 years with your help," added Cyrus Yaraghi. And their grandfather's advice to become a successful company? "Sell enough product to pay the rent," joked Arash Yaraghi.-Andrea Lillo