Opinions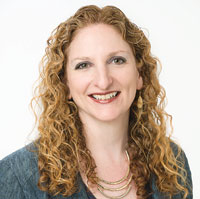 Blog: Ed Koch Sat Here, Ate There: Auction House to Sell Items from Late Mayor's Estate
Ed Koch, the former three-term New York City mayor who died earlier this year, was known for many things, but perhaps not so much his furnishings. However, the chance to own something from his home will be up for sale next week, as Doyle New York will hold an auction that includes 46 lots from Koch's estate on Nov. 18. The items will be exhibited before the auction, Nov. 15-17.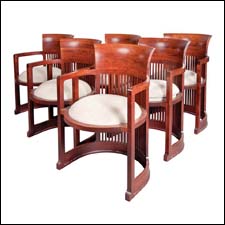 Barrel dining chairs designed by Frank Lloyd Wright
Pieces include an inscribed color offset lithograph from Frank Stella ("For Ed -- thanks a million -- F.S. '89"; estimated to sell between $1,500-$2,500); a set of six fruitwood Barrel dining chairs (est. $2,500-$3,500) and a fruitwood Allen dining table (est. $1,500-$2,500), both designed by Frank Lloyd Wright; a pair of black leather upholstered chromed steel Barcelona chairs in the manner of Mies van der Rohe (est. $500-$700); and three pottery vessels from the Iron Age and the first century A.D. (est. $700-$1,000).
For those who want something even more personal, there's Koch's favorite reading chair, a burgundy leather upholstered club chair and ottoman that is estimated to go for $200-$300.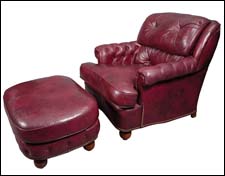 Koch's favorite reading chair
His residences in the city included a one-bedroom, $475-a-month, rent-controlled apartment that he maintained while in office, as well as the mayoral residence, Gracie Mansion, and, after office, a two-bedroom on Fifth Avenue, according to the New York Times.
A second auction of Koch's letters, autographs and books will be auctioned on Nov. 25, 2013. They include letters from Jacqueline Kennedy Onassis, Margaret Thatcher and Bill Clinton. -Andrea Lillo