Opinions
Blog: Fifty Years Ago at the Trade Mart in Dallas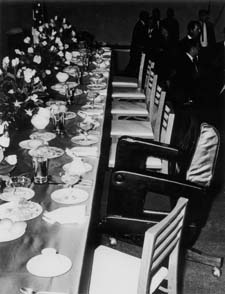 The head table where Kennedy would have sat for the luncheon
For many of the 2,600 people that day at the Dallas Market Center's Trade Mart, it was expected to be a once-in-a-lifetime event--seeing the president of the United States speak in person. Instead, that day would indeed become unforgettable, but for unimaginable reasons. President John F. Kennedy, making his way through downtown Dallas to the Trade Mart in his motorcade, was instead shot dead, minutes away.
That was Nov. 22, 1963.
The President and Jackie Kennedy had landed that day at Dallas's Love Field airport at 11:40 a.m. CST. Then, joined by Vice President Lyndon Johnson and Lady Bird Johnson, and Texas Governor John Connally and his wife, the presidential party began to weave its way through Dallas by motorcade. They were expected to arrive at the Trade Mart by approximately 12:35 p.m., where they would be greeted by real estate developers John Stemmons and Trammell Crow, who owned Dallas Market Center. Among the luncheon's guests were Jerrie Smith, daughter of Neiman Marcus chairman Stanley Marcus; Texas Senator Ralph Yarborough; Erik Jonsson, an owner of Texas Instruments; and Dallas Mayor Earle Cabell.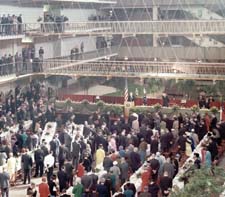 Trammell Crow announcing that President Kennedy had been shot
Instead, Crow announced to the crowd that Kennedy had been shot en route.
Opened in 1959, the Trade Mart was still relatively new then and, as it does today, housed permanent showrooms and served as a special events space. In 1964, Crow commissioned a bronze statue of an eagle to honor President Kennedy. It's placed at the entrance of the Trade Mart, within the circle drive where Kennedy would have entered the building.
This past year, DMC has been hosting people who want to commemorate the anniversary. One such group was the JFK Unspoken Speech Project, a community-driven initiative that filmed the South Dallas Choir singing the end of the speech Kennedy would have given at the Trade Mart:
"We ask, therefore, that we may be worthy of our power and responsibility-that we may exercise our strength with wisdom and restraint-and that we may achieve in our time, and for all time, the ancient vision of 'peace on earth, good will toward men.' That must always be our goal, and the righteousness of our cause must always underlie our strength. For as was written long ago: 'Except the Lord keep the city, the watchman waketh but in vain.'" - Andrea Lillo
Photos courtesy of the Dallas Market Center