Opinions
Blog: Keeping Specialty Stores Special at Forty One Madison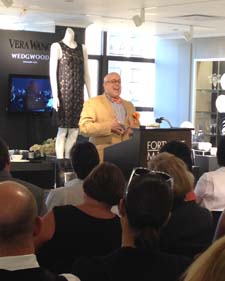 Jorge Perez at Forty One Madison
Jorge Perez, the former Waterford spokesperson who is now ShopHQ's luxury lifestyle expert, is so engaging and so passionate about product that it is always a treat to hear him speak.
Perez was at his inspiring best earlier this week during a special presentation hosted at Forty One Madison, where he discussed how specialty stores can remain special and relevant to today's consumer. He told his audience of vendors, reps and buyers gathered in the Waterford showroom that it is critical for them to understand their competitive environment, but to also capitalize on their competitive advantages. His advice is sound: specialty stores need to create meaningful reasons for customers to go to their stores. I liked his suggestions: Offer free silver cleaning on Thursday nights; host Santa pictures in September and offer to frame the results; partner with a restaurant in your neighborhood for a thematic culinary event in your store that ties in with tabletop product--all of these things get customers in the door. Even his more far out ideas--like hosting a pet adoption day in your store's parking lot, or telling customers to bring in their latest parking ticket for a certain percentage off product--were worth considering.
There were the practical hints that bear repeating: trim the deadwood from your assortment, negotiate better terms from vendors and have vendors come into your store more often (because they can sell product better than anyone), match pricing, rotate your merchandising displays frequently. His social media advice was even more relevant: Content is critical; and social media users prefer images and videos over words. Facebook and other online postings should build relationships with consumers and not just promote sales. Social media needs to be updated every day. Websites need to be optimized for mobile devices.
Perhaps the most surprising suggestion for specialty stores: "Get out of the gift registry business." Small independents cannot compete against national stores when it comes to gift registries, Perez said, but what they can do is draw off them, especially with loyal customers. Brides don't necessarily need to create registries at specialty stores, but they can encourage their guests to shop for those items at specialty stores. A good specialty store will make sure it can supply nearly anything that appears on a bride's list.-Allison Zisko