Opinions
Blog: Laying the Golden Egg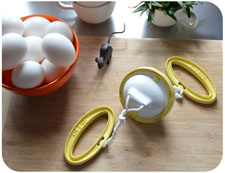 The Goose, which is now looking for funding on Kickstarter
Egg-specific kitchen accessories--seen all over the recent Housewares Show--can separate the yolk from the egg white, make a perfect poached egg or display a hardboiled egg in an egg cup. But a new project on crowd-funding platform Kickstarter would result in what may be the first food prep tool to scramble the egg without breaking the shell.
Called the Goose, the low-tech, hand-powered kitchen gadget was inspired by an old Victorian Era toy that rotates back and forth. Designed by Y Line Product Design, the Goose uses centrifugal force to scramble the egg without breaking the shell. At the center is an egg cradle, which is elastic food- and dishwasher-safe and designed to fit various sizes of eggs. It is attached to two handles, and everything is easily assembled and disassembled, lightweight and made of recyclable materials. To use, the consumer would nest the egg into the cradle and close and turn the ring until she heard an audible click, and then she would pull and swing the handles. The egg, theoretically, would then be scrambled inside of its shell.
"Most people have never tasted the exquisite flavor of an in-shell scrambled egg," the project's profile states. A "rare treat" known as the golden egg, they are "known to be a delicacy, but you'll have trouble finding a restaurant serving them and there are no utensils designed to create golden eggs ... until now."
As of this morning, the project was close to reaching its goal of $34,500, with more than $32,000 pledged from 934 backers. The funding will go towards manufacturing and assembly and needs to be met by May 15. If the funding goes through, the company estimates the first pilot production run will take place in August.--Andrea Lillo