Opinions
Blog: Making Apartment Living More Livable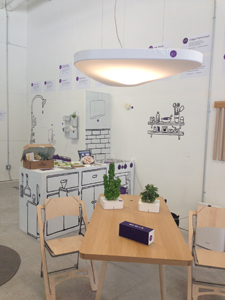 A vignette from PSFK's The Future of Home Living
Crowd-based grocery shopping, a solar-powered window socket and furniture that can be stored on a wall-mounted peg rail were among the featured innovations at The Future of Home Living, a pop-up concept space in New York City that ended Friday. Presented by think tank PSFK and 101 West 15th St., a Stonehenge property where the pop-up is held, the exhibition looked to examine both actual and conceptual products and services that revolutionize apartment living.
Divided among areas such as "Balanced Bathroom," "Fluid Space" and "Entertaining Friends," the exhibition featured items that saved time, energy or space, or helped apartment living become more livable in some way. The Petale lamp from Luceplan, for example, is made of sound-absorbing foam and fabrics to muffle ambient sound. The Zig sofa consists of colorful, modular soft blocks that the consumer can reconfigure as beds, sofas, tables, benches or shelves, depending on the mood or space requirement. The Smart Mirror prototype aims to measure a person's heart rate.
Personalized services were also part of the space and included GetArtUp, where the consumer can rent and change contemporary wall art every six months; Hello Fresh Delivery, which delivers not only recipe cards but the ingredients to make several meals for two to four people; and Julibox, a monthly subscription service that delivers the ingredients and alcohol to make mixologist-curated cocktails.
PSFK's The Future of Home Living is also available as a 75-page report, which focuses on the key trends on what is shaping living tomorrow.--Andrea Lillo