Opinions
NEW YORK--Accent and area rugs are part of the product mix at NY Now, which ends tomorrow. Long-time exhibitors used the show to debut new designs and fibers, while newer ones used the opportunity to reach out to new customers.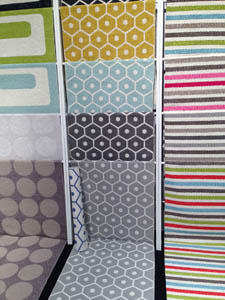 Swedish company Pappelina's new Honey design
Swedish company Pappelina exhibited at the show for the second time, featuring its machine-washable, reversible vinyl rugs. Both the materials and the products are made in Sweden, based on a Swedish tradition and using weaving looms from the 1950s. Offered in two-, five- and six-foot widths, the rugs include a new honeycomb design called Honey. So far, a stripe and a large dot design have both done well in the U.S., the company said.
Its first time exhibiting at NY Now, Classic Concepts debuted its indoor/outdoor line, made of plastic bottles. Previously, it had an indoor/outdoor kaleen design in its line, said Nick Quaranta, vice president of sales, and it was so well received that the company brought in more. The contemporary group of geometrics includes seven designs, and range from 2-by-3 to 8-by-10 sizes.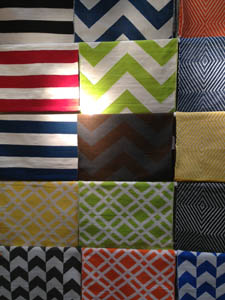 Fab Habitat's new polypropylene line
Fab Habitat added polypropylene to its line for the first time, for people who didn't want cotton but weren't ready for plastic, the company's other two fibers, a spokesperson said. Made in India, the new polypropylene line has six designs in several colorways each and in sizes ranging from 2-by-3 to 6-by-9.
The Rug Market relaunched its accent collection at the show, and which consists of a range of designs, such as coastal, geometrics and navajo. "They're more gifty," said Aaron Shabtai, spokesperson, and are for impulse buying. The company also showed its rugs for the new Nurture baby line, in 3-by-5 and 5-by-8 sizes.