Opinions
Blog: Report From High Point
HIGH POINT, N.C.-High Point Market wraps up its third day today.
Here are some highlights we've seen so far: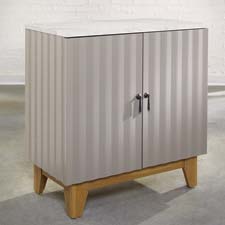 Sauder's Soft Modern storage cabinet
Sauder rebranded itself with a new, modern logo, stylish packaging, digital platforms--and product introductions--to appeal to younger consumers. "[The millenials'] biggest challenge is getting the look without the price," said Mike Lambright, Sauder's vice president of marketing. Pieces in the Soft Modern collection are designed for versatility, and to mix with thrift-shop finds.
The designer formerly known as Raymond Waites debuted his new lighting collection--and name--at market. Due to copyright issues with his name, the designer renamed himself "Artemis"--after the Greek god of the hunt, as he's always on the hunt for good design, he told HFN--so that he could launch his lighting line with Frederick Cooper. Called Art Lite, the collection is Hollywood-meets-Roman-and-Greek antiquity and includes about 26 chandeliers and pendants and 20 accessories.
Lamp Works had a soft launch of its line with singer Donny Osmond and his wife Debbie. The official launch of the line as well as the Osmonds' other licensed collections is slated for January. "He's very involved," said Jeff Woodall, co-owner, Lamp Works, of Osmond. "I collaborated with him on everything--colors, fabrics and styles." It's Lamp Works's first licensed collection and includes carved glass and wood, handmade brass, reactive ceramics and more. "He's the perfect image for the home," said Woodall.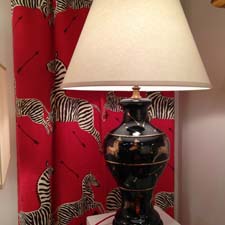 Port 68 debuted its Scalamandre licensed line.
Scalamandre continued to grow its brand with its newest licensed line. From Port 68, the line included 50 SKUs using five of Scalamandre's prints, and includes lighting, accent upholstery and decor. Finding the right companies to license with was "a delicate balance, as we wanted to take an iconic brand like Scalamandre to a larger audience and not alienate our core customer," said Steven Stolman, president.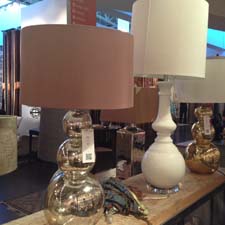 New lamps from Surya
Surya unveiled its new lighting line, which includes mercury glass, wrought iron and ceramic. It also showed five collections from Belgium-based company Papilio. Each collection has a personality, and includes the youthful Pepper, the refined Poem and the bohemian Planet lines.
Casual furniture continued to grow at High Point. Palm Springs Rattan entered two new categories: outdoor art and outdoor lighting. The company also launched 20 fabrics along with a new dining collection. "We're looking to complete the outdoor experience," said Tami Newton, sales manager. Casual furniture manufacturer OW Lee exhibited at the show for the first time, joining outdoor resources including Agio, Telescope Casual and Gloster.
Arteriors debuted a few categories, including sconces, as well a damp-rated collection of chandeliers and sconces. Retailers asked for damp-rated fixtures, said Mark Moussa, founder, and these new items will provide the company with new opportunities. And the new sconces were a "spin off from our lighting. We didn't want to do what everyone else is doing."
Capel hosted its Designer Day yesterday in its showroom, which include blogger Coco, designer Kevin O'Brien and the sister duo behind Hable Construction, which debuted its licensed line with Capel at the show.
Now in its 3,500 square-foot showroom in Showplace, Amer Rugs launched several collections, including Madison, a handtufted loop line of floral designs, and Studio, a two-color handtufted collection.