Opinions
Blog: Richard Cohen Happy in New Home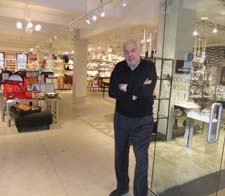 Richard Cohen at 200 Lex
It's been almost a year since well-known tabletop sales representative Richard Cohen left showroom building 7 W New York for greener pastures, and he appears to be settling in nicely in his new space at the New York Design Center at 200 Lexington Avenue. Cohen's airy and light-filled showroom is 20 percent larger than the one he had at 7 W, and it is slowly drawing back old customers and attracting new ones interested in the many high-end tabletop and giftware brands Cohen reps--Nambe, Sabre and Match, among others.
"October was our first tabletop show. From October to April, the number of appointments we've had has doubled," Cohen told me during the recent Tabletop Show.
The New York Design Center is populated by well-known names in the home furnishings industry, mostly in furniture and home decor. Orrefors Kosta Boda is a few floors down from Richard Cohen, Inc. "Even though there aren't a lot of tabletop/gift showrooms in this building, there are a lot of brands in this building," Cohen said. He said he would recommend 200 Lex to any brand looking for showroom space, or perhaps to an overseas company looking to establish itself. The building is open Monday through Friday, fellow tenants are friendly and welcoming, and Jim Druckman, who is the president of the building, "is a prince of a landlord. He's here every day. He's very accessible. He's very hands-on."
Michael Wainwright is joining the showroom later this month. "It will be in a prominent location, in a Michael Wainwright fixture," Cohen said. "That will trigger some others things," he added, alluding to other brands that he declined to name for now. "We're here to build brands. That's what we do." - Allison Zisko