Opinions
Blog: Rug Highlights from High Point
HIGH POINT, N.C.-High Point Market got underway this past weekend, and introductions in the rug category included new licenses as well as expanded ones, and focuses on metallics, handcrafted looks and recycled and natural materials.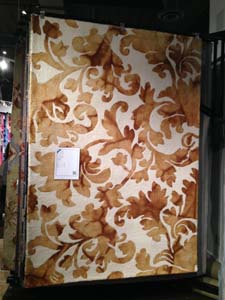 Surya's Belladonna line
Jute and leather are two hot materials in the rug arena, and at Loloi, the Edge collection combines both for a modern look. In addition, the line includes larger sizes, such as 8-by-10 and 9-by-13, which people are asking for and are unusual in this type of look, said Al Mortenson, product design. At $199 for a 5-by-8, "it's a great price point," he added. Loloi also offers larger sizes in the new Vincent line, such as 12-by-15 and 13-by-19. "People just want bigger, bigger, bigger," Mortenson said. Vincent is a handknotted collection that is triple washed.
The modern craft movement was one of the themes at Surya. Grace, a cotton flatweave group, has a crocheted border, while Patch has felted wool pieces cross stitched together. Belladonna is an introduction with a tie-dyed look; the pattern is first tufted and then dyed, and then the background is tufted--or vice versa. In addition to its new bedding category, which included Florence Broadhurst patterns, Surya added outdoor rugs to the Florence Broadhurst line for the first time.
Rizzy Home hosted a party yesterday with designer and HGTV star Rachel Kate, with whom the company has a licensed bedding line. She's been designing for a long time, she said, and her youthful line was in response to what she felt was lacking in the juvenile category in the marketplace.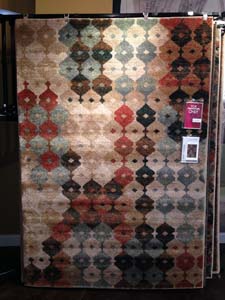 A design from Orian's Soft Touch
Orian debuted a new collection that felt soft like micro fiber. Called Soft Touch and made of a proprietary polypropylene fiber, the line has a space-dyed look and styles that ranged from contemporary to traditional. It also debuted Overdyed, which included saturated designs as well as neutral looks.
There will be several events later today. Feizy will host a March Madness-themed party, with food, drink and games, from 4-7 p.m. Interior designer and TV personality Dann Foley will meet attendees at Loloi's showroom from 5-6:30 p.m., and one attendee at the event will win a Palm Springs getaway. From 5-7 p.m., Kas and designer Bob Mackie celebrate his new collection with a party for attendees.
Beginning at 6:30 p.m., Safavieh hosts its "A Century of Style" party to celebrate its 100th year anniversary; designers Thomas O'Brien, Jamie Drake and Thom Filicia are among those attending. A live band will play popular music from each decade in the past century.-Andrea Lillo