Opinions
BLOG: Rug Introductions Continue to Roll Out in Atlanta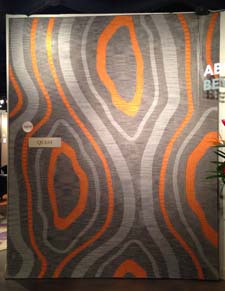 A Quest design from Dalyn
ATLANTA-The introductions continued to roll out at the Atlanta International Area Rug Show, from indoor/outdoor rugs to handknotteds.
Dalyn crossed custom with stock for its new Above & Beyond brand, which has customized colors and designs "but packaged in a way that makes it easy," said Bryan McIntosh, director of marketing. "It's more streamlined. The production time is shorter for the customer." And it has more shapes available, offering ovals and rounds as well as rectangles. The collection includes two initial lines: Paramount and Quest, which will retail for $899 and $999, respectively.
Surya showed the first designs of its recently announced William Morris line, which will contain handtufted rug designs, inspired by one of the most influential designers of the Arts & Crafts movement. Surya also went bold and bright with Houseman, a cow hide collection that includes chevron, hex and square designs, some in very vibrant colorways.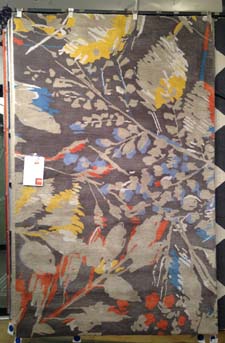 Jaipur showed its Luli Sanchez line
Jaipur debuted its latest license with Luli Sanchez, a textiles designer, and showed product in rugs, pillows and poufs. "We basically transferred her artwork to the designs," said Candace Clarke, assistant sales manager. "She has a good eye."
Dynamic continued its focus on viscose with several new collections. Urban, for example, is a multi-textured, loop-and-cut line, while Couture is made of viscose with a two-color chenille back--the first company that is able to have a two-color back, said Jon Morrison, vice president, sales and marketing. It also added to its indoor/outdoor collection, including the colorful Loft power-woven line. It also debuted two lines with cotton: Polar, which was of a wool and cotton blend, and Broadway, which was of all cotton.
Harounian came to market with 14 new collections, the majority of which are handknotteds. One new collection, Allure, is constructed of linen and viscose. "We've improved what we've done before [with linen]," said Greg Jordt, executive vice president of sales. "It has a great hand." Checkers was a new handwoven collection, a flatweave group of plaid designs that received a good reaction, he added.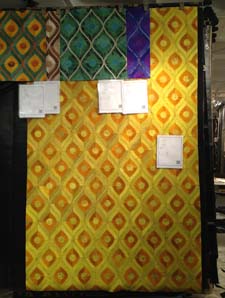 Surya goes bold with its Houseman line
In Building 2, Jellybean debuted more than 75 designs, including its new area rug line and new items in its memory foam line. In addition, it debuted designs from Amy Schimler Safford, a children's illustrator.--Andrea Lillo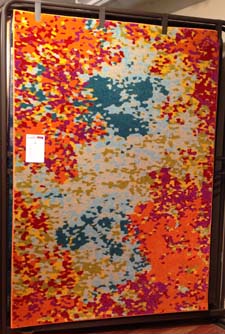 Dynamic expanded its indoor/outdoor line with Loft