Opinions
BLOG: World Kitchen Steps Out in Style During Fashion Week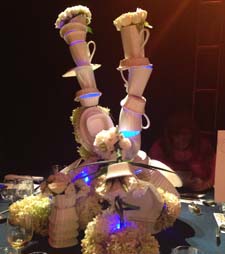 Corelle and Corningware centerpieces
NEW YORK-World Kitchen was at its fashionable best last night during Mercedes-Benz Fashion Week here. The housewares company hosted an exclusive dinner at The Box at Lincoln Center that featured fashion designer Rebecca Minkoff and rising chef Nate Appleman. Each shared their views on entertaining, hosting and cooking while dining on Corelle Boutique dinnerware and being served from Corningware French White serveware.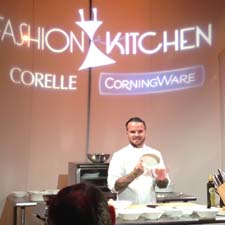 Nate Appleman conducts a cooking demo
It was a brand promotion event, done in--and alongside--high style. After a cocktail hour in an open-air courtyard, guests sat down inside to a brief cooking demonstration by Appleman and then to dinner. The centerpieces were elaborately constructed bouquets of Corelle plates and Corningware serving dishes, decorated with white roses and white hydrangeas. Just beyond you could hear the thumping beat of the runway show taking place at the same time.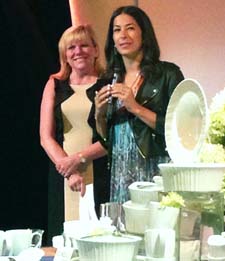 Kris Malkoski, left, and Rebecca Minkoff discuss entertaining strategies
Kris Malkoski, president of World Kitchen North America, was there to introduce both the fashionable guests and the fashionable tableware. The Boutique line was recently introduced as a bridal registry offering, and according to Malkoski, it has been performing well at department and specialty stores, channels the company is keen to establish itself in. World Kitchen has been working hard to change the perception of Corelle from a strictly mass market brand that is durable, functional and inexpensive to a dinnerware option that is as stylish as it is practical. The embossed Boutique line, a 16-piece set of which retails for about $89.99, fits the bill.--Allison Zisko