Opinions
Blog: Lots of Shine--and Earthiness--at NY Now
NEW YORK-New product remains front and center at NY Now, which continues here through Feb. 6.
Bright colors and bold design held the day at the Imports Decor booth. The company presented collections of ottomans, decorative pillows and quilts, all of which are handmade and all of which were inspired by design influences from India ... Cloud 9's booth featured decorative pillows with bright metallic colors in a variety of designs, including Sovereign, a square check design in gold and silver; Nimbus, featuring gold threads in a radiating design from the center of the pillow; and Coral, with circles and beaded looks in silver ... Chortex has added hunter green and burgundy to the color palette of its Irvington towel collection, and pewter, silver and navy to the color offerings in its Honeycomb towel line ... Alamwar displayed a number of products made with khadi, a sustainable fabric handwoven by cottage weavers in India.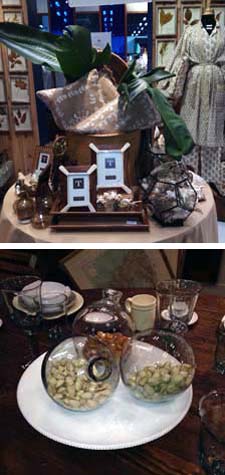 Above: Europe2You's serving balls are made from recycled glass. Top: Two's Company identified Natura as a trend.
In the tabletop category, there was prominent use of reclaimed or recycled materials, particularly wood. Europe2You showcased its line of wood trivets and serving pieces made from wood from European buildings slated for demolition; it also featured glassware blown in Spain from recycled glass and glass bowls and cloches made from repurposed wine jugs ... Argentinian company Airedelsur also uses repurposed wood in its array of metal-trimmed trays, bowls, vases and serveware ... Caskata made its first foray into bone china with the elaborately decorated Hawthorne Onyx and Hawthorne Ice (its existing dinnerware is made of porcelain) ... Among the design themes presented in Two's Company's booth were watercolors geared toward beach coast and lake shore decor; Palm Beach, a collection of tropical, "Hollywood" looks with lots of rattan and woven finishes; Paris Left Bank, featuring feminine details and lots of gold and silver; Natura, an array of global patterns and the use of organic materials in an earthy color palette; and Indigo, featuring the dark blue colorway ... Middle Kingdom's newest vase collection showcases the looser, more freehand approach of the artist; the company also introduced the Cultivated Garden assortment of planters and vases designed with gardening in mind ... Godinger is grouping its extensive product array into thematic presentations--such as bridal or barware or Mother's Day--to highlight its one-stop-shopping capability.
Show owner and organizer GLM set aside time to introduce the press to David Loechner, CEO of Emerald Expositions, the professional trade show company that acquired GLM last month. Loechner, who said Emerald runs 60 trade show events annually across 10 industries, said NY Now would be one the of the biggest parts of its portfolio, and that GLM's "strong value proposition" and "top notch executives" are what attracted Emerald to GLM. He said, "We will operate as one company going forward," but stressed the importance of GLM retaining its brand identity. The goal will remain to pair the right buyers with the right sellers at the right time, Loechner said. "This is a customer business. It is not a formula business."