Opinions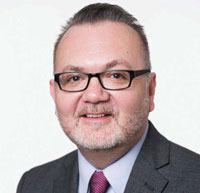 No Stone Unturned
By Duke Ratliff
Returning from the recent International Home & Housewares Show, I had one word on my mind. The word? "Halloween."
As usual, the Housewares Show was a much-anticipated, well-oiled machine offering up a treasure trove of items from companies big and small. Retailers looking for anything from cookware to men's shavers and cleaning products did not leave disappointed.
But what grabbed my attention most of all was the huge amount of Halloween-oriented items. Candles, cupcake tins, cookie jars, mugs, dessert plates and much more were all adorned with witches, black cats and skeletons for Halloween. The familiar black and/or orange color pattern symbolizing tricking and treating was also spotted at the more recent New York Home Fashions Show. I'm anticipating similar spooky sightings at the New York Tabletop Show and at High Point Market.
Recent statistics show that sales of Halloween-centric items have flattened or slightly declined in the last couple of years, so why the big push on Halloween items? Simply put, there's a well-documented, guaranteed market for Halloween items and a well-run vendor doesn't miss an opportunity to make a sale.
These days, most successful vendors make sure to have something for everyone. With a few notable exceptions, the days of finite specialization are behind us. Companies offering a single item are rare.
To see a slew of formerly standalone companies, just walk down the Lifetime Brands aisle at the Housewares Show (or check its website). There you'll see well-known brands such as Pedrini, Pfaltzgraff, Debbie Meyer and Mikasa--all previously their own company now owned and managed by Lifetime to suit current business necessities.
At the same time, Lifetime Brands is a great example of a company that offers a variety of items to target nearly every consumer demographic in the spectrum.
Today's successful marketing efforts don't have the feel of "let's throw it up against the wall to see if it'll stick." Instead, companies have identified consumer market segments that they have identified as having potential, sometimes untapped sales.
These efforts are not to be confused with niche marketing. Companies aren't simply going after small consumer segments. Instead, they're making sure that they have items for every possible consumer and retailer.
I call it the "No Stone Left Unturned" approach.
At last month's Housewares Show, Wusthof, well-known for its high quality cutlery, introduced a set of travel knives (complete with travel bag and sharpener). The set targets well-off consumers that might travel to second homes. Boat and recreational vehicle owners are also potential consumers. Wusthof also introduced an especially long, thin, flexible fillet knife for salmon fisherman. A Wusthof salesperson based in the Northwest had suggested that the company design such an item.
While salmon fishermen, and RV and boat owners might not be huge consumer segments, Wusthof--and other successful vendors--can't afford to ignore them.