Opinions
The Newest Lighting Shines in Dallas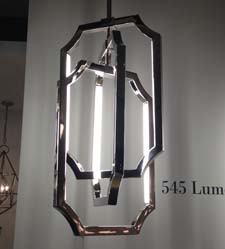 Feiss delved into LED for the first time.
DALLAS--A positive vibe infused the Dallas Market Center on the second day of the Dallas International Lighting Market yesterday. Touches of sparkle, more LED and nature influences were among what was seen among the introductions.
Many companies expanded their existing LED lines, including LBL. Half of its introductions this market used LEDs, said Brian Klein, marketing director. They included East River, a linear piece that was influenced by bridge architecture, and Interlace, a 29.5-inch large circular fixture that was inspired by a loom.
Feiss got into the LED category with its first LED fixture family, Audrie. It looks like a sculpture when turned off and has "a beautiful, crisp light" when it's on, said Sean Lavin, chief design officer, Generation Brands, and it's dimmable. "The goal is to keep working LED" into the Feiss line, he said. Lavin, who also designs Generation Brands' Tech Lighting line, applies the same techniques and LED knowledge from his work with Tech, but translates it for Feiss customers.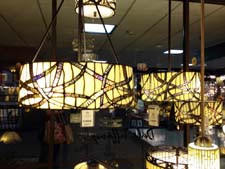 Dale Tiffany added new collections to Contempo.
Feiss also announced it's getting out of the portable business--as well as pulling out of exhibiting at High Point--in order to concentrate on its core fixture business, Lavin said.
Gold continues to shine. At Crystorama, Luna uses gold leaf on the inside of circles, with an English bronze finish on the outside.
"We like to mix metals and finishes to give it depth," said Nancy Lonoff, marketing director. The Bella collection expanded with a chandelier, wall mount and ceiling mount with swags of gold and crystal. "Gold leaf is very strong," she said.
Natural materials were seen as well. At Feiss, Allier--named after the town in France known for its wine barrel stave production--uses distressed oak in an open circle design, and is also available in a natural oak for a contemporary look. LBL showed Linette, an open cage design where the frame was wrapped in burlap.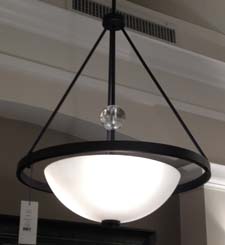 Progress debuted Compass, among its other introductions.
Celebrating its 35th anniversary, Dale Tiffany added a lighting option to its Favrile glass wall plates. In 16- and 20-inch sizes, any of the plates can come with a fixed lighting kit. Dale Tiffany also added six additional collections to its Contempo line, which is a modern take using Tiffany glass.
Progress Lighting added new period pendant pieces in glass, in a schoolhouse shape. Compass was another introduction, and has a streamlined simple look.--Andrea Lillo