Blogs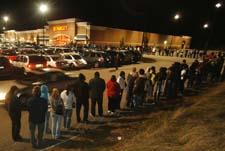 Retail's biggest weekend of the year has come and gone, and here are a few takes from what occurred during the 2011 turkey-fed frenzy:
1. The Thanksgiving weekend has become so special to retailers that every one of those days has a name. We now have Black Friday, Small Business Saturday and Cyber Monday (and Sleep It Off Sunday...my thanks to my colleague, Andrea Lillo, for that one).
2. Actual holidays themselves are no longer sacrosanct. Walmart actually opened its doors on Turkey Day itself and held special events beginning at 10 p.m. Are Christmas Day sales events far behind?
3. Shoppers spent a record $52 billion during the weekend, according to the National Retail Federation--increasing their per-shopper spending by 9 percent. Consumers seem to know something that the gloom-and-doom economic pundits don't.
4. Nearly 40 percent of the weekend's sales were checked out on the Web, NRF said. Anybody who still doesn't believe in e-commerce needs to recharge their brain batteries.
5. The same goes for those who don't see this time of year as important for home furnishings. Barclays Capital's research department said home-furnishings sales scored a 5 percent comparable-store increase over last year's Thanksgiving weekend.
Happy holidays, folks.--David Gill