Blogs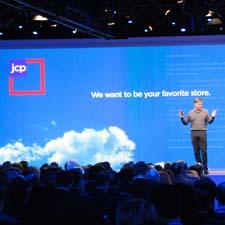 Ron Johnson at the J.C. Penney event
I have attended a number of presentations to financial analysts over my years as a reporter. Last week, for the first time, I went to one which was haunted.
J.C. Penney's new top executives, CEO Ron Johnson and President Michael Francis, delivered a thoroughgoing exhibition of their plans for the retailer's future--encompassing new strategies for pricing, promotions, branding and store layouts. Through it all, I could feel that the ghost of Steve Jobs, the late co-founder and chairman of Apple Inc. and Johnson's former employer, had slipped in to Pier 57 in New York City, where the event was held last Wednesday, and was very much a part of the whole experience.
Jobs was there in terms of the theatrics of the event. You had the bare stage backed by an enormous video screen. You had Johnson and Francis, both dressed Jobs-like in casual attire--Johnson in an open shirt, sweater and slacks; Francis in a jacket with elbow patches and a plaid shirt; not a tie in sight (not on the stage, anyway; there were plenty of ties and suits in the audience). You had both gentlemen pacing up and down the stage as they spoke, the way Jobs did when he was introducing new products like the iPad or new services like the iCloud.
Plus, you had the new concepts for J.C. Penney's eventual new format, which will be debuted in the next two years--wide open spaces; bright white wall fixtures; a layout combining product displays with a dedicated services area. Just like Apple stores.
None of this should surprise anyone. Johnson played one of the crucial roles in making Apple a retailer as well as a manufacturer, one that has become an envy of the entire industry. And he did this under the leadership of one of the most overpowering executives American business has ever seen.
But it was refreshing. Other analyst presentations I have attended have been staged much less dramatically: an executive in a suit and tie, standing behind a podium, droning on with statistic after statistic and pointing to charts and graphs with plenty of zigzagging lines--while analysts sit, yawn, clear their throats and take occasional sips out of their coffee cups or bottles of Poland Spring.
It is a staid and predictable scene--as staid and predictable as J.C. Penney had become before Johnson and Francis came aboard. How it will all turn out, of course no one can say at this time. But there is at least the possibility that this new leadership can do to a 110-year-old department store what Steve Jobs did to tech products.
Maybe a ghost can bring something back to life.--David Gill