Blogs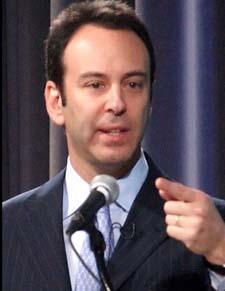 Eddie Lampert
The red that showed up on Sears Holdings' bottom line for its first quarter could wind up being more than just ink. Soon it could be blood resulting from executive heads on the chopping block.
Eddie Lampert, who has combined his previous role as chairman with his new role as CEO since Lou D'Ambrosio left in February, said as much in a conference call to retail analysts after the first-quarter results showed up last week.
Beginning by declaring the results "not acceptable," Lampert later went on to say that he has met with other Sears executives, including those he characterized as "inclined to accept current performance levels for incremental progress," and made it plain that he expects better. "It will take a bit of time, but I'm committed to having a leadership team which is aligned, accountable and that understands what we need to do to transform this company."
Conference calls with analysts are usually devoid of this kind of drama. But after this one, you can forgive the Sears executives for reaching for their heads, just to make sure they are still there.
The call also was notable in that, for once, Lampert actually sounded like he runs a retail company. In previous public statements, he has been known to concentrate on things like "assets," "liquidity" and "shareholder value"--the usual stuff you hear from guys who run a hedge fund.
On this call, however, Lampert also touched on improving business at both Sears and Kmart through the Shop Your Way membership program, through investments in the digital integration of the stores and the websites, and through improving the supply chain. This is actually what most retail honchos sound like.
Of course, missing from his discourse was any sign that Sears Holdings might plow some money into the stores. Recent visits by yours truly to both Sears and Kmart still show how boring their formats are and how much they need better lighting and even a paint job here and there.
But on this call, by talking up strategies to sell more products at Sears and Kmart--and by sending a message to his subordinates that a mafia don would appreciate--Lampert declared himself, for a change, as in charge of a retail company.--David Gill