Blogs
Blog: Party Time in Arkansas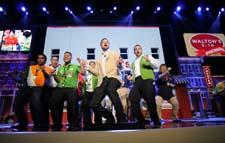 Justin Timberlake during the Walmart cheer
There was some reason to expect that the Walmart shareholders meeting last Friday would be a somber, or even contentious, affair, in light of the bribery scandal involving the retailer's Mexican operation.
Various news reports leading up to the meeting spoke of shareholder groups calling upon Walmart executives to 'fess up. Some of these groups said they intended to vote against reelecting the board of directors, which includes executives who may have been involved in the scandal. These groups, whose Walmart holdings represent single-digit percentages of the total number of shares, had less than no prayer of ousting the board. Still, their presence promised to electrify the atmosphere at the meeting.
Instead, attendees--shareholders and store associates from all over the world--were treated to a good old-fashioned party celebrating the company's 50th anniversary. They got Taylor Swift, Lionel Richie, Celine Dion and other musical acts. They got Justin Timberlake, who hosted the event and who walked out in a grass hula skirt in memory of the time Sam Walton danced the hula on Wall Street. They got Valeda Snyder, who has been a Walmart associate for as long as the company has been around.
Associates with each of Walmart's divisions competed in outcheering each other. All in all, the attendees acted like they are part of a company whose stock price had just hit a 12-year high.
Not that the scandal was totally in the back seat. Both Chairman Rob Walton and Mike Duke, president and CEO, brought up the scandal and reiterated Walmart's commitments to cooperate with authorities in the investigation and to conduct its business with integrity and in compliance with the law.
But the event proved again that Walmart shareholder meetings are like few others among the world's publicly traded companies. Others that I have attended were staid and formal events: Call the meeting to order, deliver the financial results, vote for the board of directors and see you next year.
Walmart's annual meetings have changed over the years. In the 1990s, according to people who were there, they were more like revival meetings, with Sam Walton and David Glass working the crowd into a religious fervor over the latest financials. Last week's meeting was more like the Super Bowl, with celebrities, light shows, videos and the Star-Spangled Banner.
Scandal or no scandal, Walmart knows how to party.--David Gill