Blogs
Blog: The New Buzzword is Quicks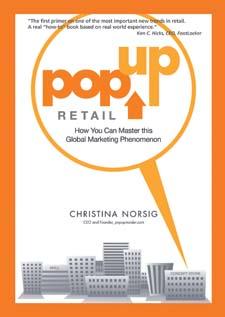 First there were bricks, as in bricks-and-mortar stores, then there were clicks, as in Internet retailing, and now there are quicks, as in flash-sale sites and pop-up retail stores.
Christina Norsig, tabletop veteran, early e-commerce retailer and commercial real estate insider, has written a book called "Pop Up Retail: How You Can Master This Global Marketing Phenomenon." The book explains and puts into context the whole pop-up movement and why it's here to stay; gives tips on locating, designing and marketing a successful pop-up retail store; and offers solutions to common pitfalls. It's a good primer for anyone thinking of opening a temporary retail space (Norsig said she's trying to reach specialty merchants in particular) and also addresses the whole idea of "quicks" as a retail marketing strategy. She calls it a "game changer," one of the biggest shifts in the retail landscape.
The book is sold on Amazon, Brookfield Financial ordered a bunch to give to clients as a holiday gift, and General Growth Properties ordered a copy for every mall manager. In addition, Norsig, who operates PopUpInsider, a national online exchange for temporary retailing, has shipped copies of the book to Canada, Israel, Denmark, the United Kingdom, Australia and across the United States. She is also working on a television pilot to promote the concept.
Quick, click and check out this book. - Allison Zisko