Blogs
Fashion, Food Trucks and Fun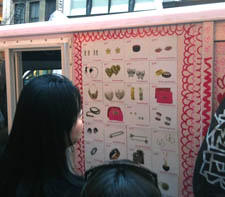 Many a stilettoed foot was seen about New York City on Sept. 10, as Fashion's Night Out celebrated the fashion industry and good old-fashioned shopping. Now in its second year, the event took place across the globe in 100 cities, and was envisioned as the industry's "own fashion stimulus package," Anna Wintour, the editor of Vogue who launched the event last year, told CBS.
Though fashion was the focus, so was creativity. Food trucks--which have multiplied over the past two years, even becoming the subject of a Food Network show--were put to good use by designers. In SoHo, Marc Jacobs offered fashionistas a menu of jewelry, totes and other accessories from a pink, scrawl-covered food truck. The Harajuku Lovers Treat Truck gave out fragrance samples downtown as well.
The MoMA Design Store hosted a performance by avant garde fashion label threeASFOUR, which partnered with Yoko Ono to create scarves and bow ties. Over at Chanel, which carpeted the sidewalk and included a large visual display in front, a velvet rope kept the throng of people orderly.
In the Meatpacking District, online pop-up site Gilt and American Express teamed up to offer partygoers makeup touch ups under a large white tent, which at one point in the evening included designer Jason Wu, who designed Michelle Obama's inaugural dress. People could also sign up to win a $1,000 Gilt shopping credit. Nearby, cupcakes were given away from yet another food truck, also from Gilt and American Express.
Along cobblestoned Bond Street, the carnival atmosphere included a row of tents offering food, cocktails, contests, photo taking and more, as someone dressed in a black creature costume walked around on stilts.
In Midtown, Macy's had major star power, with appearances by Sean "Diddy" Combs, Jennifer Lopez, designer Rebecca Moses, celebrity chef Marcus Samuelsson, and others.
Crowds gathered around QVC's pop-up store in Rockefeller Plaza, hoping for a glimpse of Melania and Donald Trump or one of the Kardashian sisters, as Melania and the sisters were both launching their new collections live on the channel that night. Though most of the products on hand at the pop-up store were apparel, there were a few home products, including a Rowenta Fashion Week iron.
To a first timer, the event was a delightful surprise, as the number of retailers, events--and people--was enormous. One night was not nearly enough time to hit all of the spots. But it kicked off the fall shopping season on a very positive note, and that's what business, especially retail, needs right now.--Andrea Lillo