Filene's Basement to Liquidate Along With Parent Syms
Posted on 
November 3, 2011
 by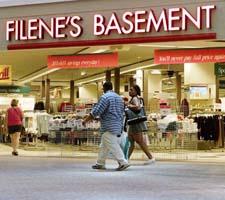 NEW YORK-Filene's Basement and its parent company, Syms, have filed petitions with U.S. bankruptcy court in Delaware for Chapter 11 protection, and are readying to liquidate the stores.
According to a statement from Marcy Syms, the parent's CEO, Syms is pursuing the liquidation after its board of directors explored "every strategic option available, and finally came to the conclusion that a liquidation was in the best interests of all our stakeholders." Syms said stores will begin conducting going-out-of-business sales upon approval from the bankruptcy court, and that these sales may run through the end of the year...possibly longer, in some cases.
Syms acquired Filene's Basement two years ago in conjunction with Vornado Realty Trust, for about $65 million. In explaining the decision to liquidate, Marcy Syms cited "challenging economic conditions."
Filene's Basement was founded in 1908.
advertisement