Home Comes Back to J.C. Penney
By David Gill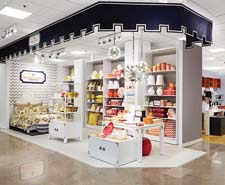 The Happy Chic by Jonathan Adler section spotlights the designer's tabletop collection.
The much-anticipated reformatting of J.C. Penney's home department is now in place at about 500 stores throughout the nation.
The department-store retailer officially launched the new department last month, at stores that had produced the largest volumes of home-products sales, according to Paul Rutenis, senior vice president and general merchandise manager of the home division. Concurrently with the store unveilings, the company also introduced its new home concept at a media event in New York City.
The new format centers on the shop concepts detailed by Ron Johnson when he became J.C. Penney's CEO in November 2011. In a recent conference call with financial analysts, Myron Ullman III, who succeeded Johnson as CEO in April, said the retailer had now changed its nomenclature for the dedicated areas from "shops" to "attractions."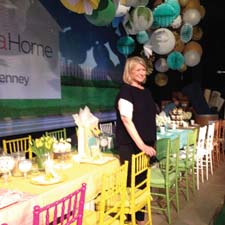 Martha Stewart poses with some of her J.C. Penney merchandise at the launch event in New York City.
The attractions in the home department include Bodum for housewares; Cuisinart for cookware and small electrics; Design by Conran, with furniture designed by Sir Terence Conran; Fiesta, offering cookware and tabletop; Happy Chic by Jonathan Adler, with the designer's tabletop collection; JCP Everyday, featuring bedding, bath products and accessories; Keurig, with the brand's coffee brewers and accessories; Michael Graves Design with housewares; Ordning&Reda with stationery; Pantone Universe with a variety of home textiles; and Bali and Levolor, both with hard window treatments.
And, of course, there is the Martha Stewart offering, encompassing Martha Decor, including area rugs and window treatments; Martha Celebrations with party goods; and Martha Pantry, with food.
Ullman told the analysts that J.C. Penney's performance with the shops (or attractions) it opened in advance of the new home format augurs well for home. "Given the proven success of Sephora and the encouraging performance by the Levi, Izod, Liz Claiborne, Arizona and JCP shops, attractions are going to remain a strategic emphasis," he said.
At the media event, Rutenis told HFN that the home makeover is "very important to us. The attractions will give people a reason to shop with us again."
Merchandising the home area under the new look will mean that J.C. Penney will have to listen carefully to its shoppers. "The customer will vote at the end of the day" on these offerings, Rutenis said. "Then we'll make adjustments depending on how they vote."
Rutenis also left the door open as to additional brands that could be featured in home. "We'll evaluate new brands as we move along," he said. "We're more diversified in our home product offerings than ever before, and we have a great understanding of the brand identifications. The brands we add down the road have to stand for something."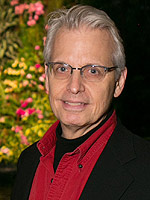 Michael Gambardella
|
Group Art Director
MGambardella@hfnmag.com
SPONSORED: Abbyson's Fashion-Forward Collections Shine in High Point

   More Videos
Tweets by @HFNmag