Iconix to Buy Sharper Image
Posted on 
November 10, 2011
 by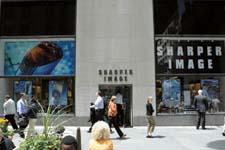 Iconix Brand Group has signed an agreement to purchase The Sharper Image brand and its intellectual property assets from Sharper Image Acquisition, the entity established by Hilco Consumer Capital, Gordon Brothers Brands and Bluestar Alliance, which acquired Sharper Image three years ago.
Iconix has agreed to pay $65.6 million in cash for the brand. This move will mark its first entry into the consumer-electronics market, and Iconix expects that the purchase will generate from $12 million to $13 million in annual royalty revenue through sales of audio and video electronics, travel gear, personal home products, kitchen and bath accessories, massage products, air-purification products and gift merchandise. A closing date for the deal was not mentioned in a statement announcing the agreement.
Neil Cole, Iconix's chairman and CEO, said, "We always believed that the Iconix platform could be leveraged across numerous industries, and this acquisition reinforces that message."
Looking at Iconix's latest financial results, third-quarter net income finished at $31 million, down 2.5 percent from last year's third quarter.
The bottom line for the brand-management company was hurt by declines in revenue and increases in expenses for interest and income taxes. Licensing and other revenue dropped 4.3 percent to $92.7 million in the quarter, which ended on Sept. 30. Interest expense ballooned by 31 percent, and the provision for income taxes increased 15 percent.
The two expense increases offset a 20 percent drop in selling, general and administrative expenses on a dollar basis. As a percentage of revenues, SG&A fell 699 basis points to 36.4 percent.
Although net income slipped for Iconix, Cole described the results as "another strong quarter for our company." He added that the Sharper Image deal and Iconix's multiyear license agreement with J.C. Penney for the Royal Velvet brand, announced earlier this week, are "two exciting initiatives" that will help the company grow down the road.
advertisement
advertisement
Tweets by @HFNmag