Blogs
Now Showing in Vegas: Droog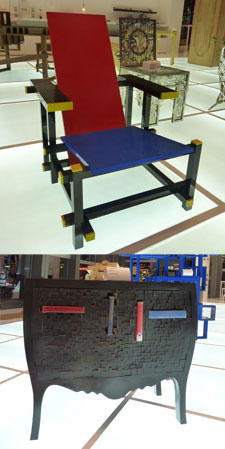 Top: The Red blue Lego Chair, $71,000; bottom: The Push and Store Cabinet, $35,500
Big spending has been a part of the Vegas lifestyle for decades, and now the conspicuous consumer can pick something up at Droog, the new U.S. location of the Dutch design company.
Facing the Las Vegas Strip in The Cosmopolitan hotel, the 2,500-square-foot shop is Droog's only U.S. store. Droog closed its SoHo store last year and is looking for a new spot in New York.
The center of the Las Vegas space holds limited editions, prototypes and one-of-a-kinds. The most expensive piece currently is the
one-of-five-only Red blue Lego chair for $71,000. Made of more than 4,400 Legos, it's a version of Gerrit Rietveld's iconic chair, and comes with an aluminum frame. Other furniture pieces include the Lucky Cat Pinball Machine ($9,600), Come a Little Closer Bench ($9,040), and the over-five-foot tall table and chair set called Skin ($38,000).
But those lacking the big bucks can partake of less expensive items. A select group including glassware, books, a friendship ring set and other items are available, as well as its classic Clothes Hanger Lamp, featured in an edition of HFNow. The $19 Sucker removable hook and the $58 set of 50 magnetic leaves are among the current hot products, according to a store employee.
Whatever you buy, it's a more unique Vegas memento than a T-shirt.--Andrea Lillo