Saks Revamps Home Department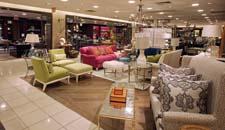 The leased Lillian August gallery will be curated regularly by the Lillian August team.
By Allison Zisko
Saks Fifth Avenue, having dabbled in home before, has relaunched its home furnishings department with a strong statement that emphasizes its commitment to the business.
The tony retailer wanted to make its home department look consistent with the rest of the store, said Eric Jennings, vice president and fashion director for menswear, home, food and gifts, and thus renovated 7,500 square feet on the ninth floor of its New York flagship store using the shop concept. Working on what he described as a "shoestring budget" and a very short time frame, Jennings carefully edited the assortment, scaling back on some vendors and beefing up others.
The relaunch, which was unveiled in New York last month, goes beyond the giftware it previously focused on. The current mix includes shops by Baccarat, Jay Strongwater, Lillian August, MacKenzie-Childs and Michael Aram, all tailored to the tastes of the Saks customer. "It looks like we're in the home business now," Jennings said while giving HFN a tour of the floor.
The shops, with the exception of Lillian August, are stocked, owned and managed by Saks. The Baccarat shop is the first of its kind in the U.S., in terms of its fixturing, and its focus is on lighting pieces and its collaborations with designers (though classic barware and giftware have a presence in the space). Michael Aram's shop is a near replica of its flagship store in the Chelsea neighborhood of Manhattan. It's dark and beautiful and "everything shines," Jennings said. Aram has been a successful partner of Saks and this new shop includes a few special pieces, such as a tall dandelion sculpture.
Saks brought in MacKenzie-Childs about two years ago and "literally out of the box it exploded," according to Jennings. Its quirky and decidedly unique approach to home furnishings appeals to the Saks customer, Jennings said. "If it's unique and one-of-a-kind, they love it." The shop, with walls handpainted by the same artist who paints the company's furniture, is twice the size of its original space at Saks, and this spring the focus is on its outdoor furniture and an extensive collection of luxury garden party accessories.
Jay Strongwater, MacKenzie-Childs' new corporate sibling, whose mantra is "jewelry for the home," offers another example of what appeals to the Saks customer, Jennings said. Strongwater's Wanderlust collection of bejeweled frames and decorative boxes made their New York debut here.
Saks has ventured into the furniture category via a leased Lillian August gallery, which will act as a rotating assortment curated by the Lillian August team featuring pieces from its own collection as well as international finds. "They have access to so much," Jennings said. "I'm thrilled about this. We haven't played in this arena in a while."
Bookseller Rizzoli has a shop, as does stationer Mrs. John L. Strong, and there are outposts of tabletop vendors such as Nambe, John Derian, Herend and Hermes. Saks also takes special orders for china, bedding, towels and cutlery for customers who request them. The company website is also being updated to reflect and expand on what's happening in the store. "We'll use our website in conjunction with the stores to sell," Jennings said. "By utilizing the web and drop-shipping, I think we can really grow this business.
"Home is such a personal business," he reflected. "It's interesting to see what works."
advertisement