Trade Show Preview: It's Showtime!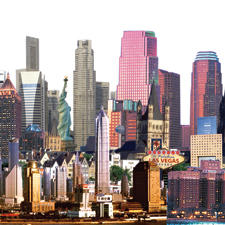 Textiles
As it does every year, Heimtextil begins the first-half trade-show season for the home textiles industry, and is scheduled for Jan. 12-15. Messe Frankfurt, owner and manager of the venerable show, has planned several "conceptual changes," according to the company, to the home-textiles section.
Olaf Schmidt, vice president of textile fairs for Messe Frankfurt, said the hall layout in the Messe has been reworked. The entire wallcovering-product area has been placed in Hall 3.1, where it should complement the floor-products group. Hall 4 has been transformed into an area for window treatments and upholstery, and now includes a meeting place for manufacturers and contract furnishers in these categories. The designer area has been moved from Hall 1.1 to Hall 4.2, and will include a CAD/CAM section and an area displaying home technology. Decorating- and furnishing-fabric manufacturers will exhibit in Hall 4.1.
Heimtextil will also feature several special events, lectures and awards ceremonies. The show's lecture program will spotlight current trends and developments in home textiles, including the continuing trend toward sustainable products, home-fashion trends and new aspects of the contract business.
The end of January will bring the winter edition of the New York International Gift Fair, which will run concurrently, as usual, with the Gift & Home Textiles Market Week at the 7 W New York and 230 Fifth Ave. showroom buildings in New York. The Gift Fair will return to its usual venues at the Jacob K. Javits Convention Center and Passenger Ship Terminal Piers 92 and 94.
The January NYIGF will mark the continuation of the three-year strategic reorganization of the show from GLM, the show's owner and manager. As part of this effort, the winter show will include the expansion of Baby & Child, the juried juvenile-products division which launched at the summer NYIGF this year, to 150 exhibitors. New York's Newest, also introduced at the summer show, will expand to showcase about 250 newcomers to the show.
Both the At Home and At Home featuring Home Textiles sections will feature expanded exhibit spaces among textiles vendors such as Amity Home, Kevin O'Brien Studio, Allem Studio, Brahms Mount and Busatti. In total, At Home will have about 500 exhibitors in textiles, outdoor furniture and accessories, while At Home featuring Home Textiles will encompass about 200 vendors of bedding, bath linens, kitchen textiles, decorative accessories, area rugs, window treatments and decorative fabrics.
GLM said visitors will see further refinements to other Gift Fair sections, including the addition of a new Stationery and Publishers section to the General Gift division; and the return of The Licensing Gallery at NYIGF, an annual forum of artists, designers, licensing agents and design studios. Seminars on social media, fair trade, sustainability, home and color trends, and marketing and retailing strategies are also on the schedule.
For the Gift & Home Textiles Market Week, Jan. 28-Feb. 3, vendors at the 7 W New York and 230 Fifth Ave. showroom buildings in New York City will present their wares for the first half of 2011. 7 W New York will offer Shop 7 W First on Friday, a day of events to kick off the market. Each market day will also bring the Holiday Shopping Stroll, in which showrooms highlighting holiday and seasonal merchandise offer perks, events and special amenities for buyers in these categories.
The Atlanta International Fine Linen & Home Textiles Market is scheduled for March 12-14. It will take place, as usual, at AmericasMart Atlanta, and will feature vendors in both permanent showrooms and temporary spaces.
March also brings the first of the two yearly New York Home Fashions Markets, in which the New York City home-textiles showrooms open their doors with new products for the upcoming season. The New York Home Fashions Market is scheduled for March 14-18. This market, as usual, involves the showroom buildings at 295 Fifth Ave., 261 Fifth Ave., 230 Fifth Ave. and 7 W New York--along with other vendor showrooms located throughout the city.
Back on the global scene, Tex-Trends India, which is scheduled for Feb. 2-4 at Pragati Maidan, a convention center in New Delhi.
The show includes exhibitors of bedding, bath towels and linens, kitchen textiles and table linens. More than 1,000 exhibitors are expected for the 2011 show, making it the largest in the history of the Indian textiles industry, according to a statement from the show. It's organized by the Apparel Export Promotion Council and two government bodies, the Ministry of Commerce & Industry and the Ministry of Textiles.
The growth of the show is a reflection of India's increasing role in the global textiles industry. India now produces and exports textiles products ranging from home furnishings, household linens, curtain tapestries and yardage.
The show will spotlight many exhibitors among producers of handloomed textiles, which remains a centerpiece of the entire textiles industry in India. Among the handloomed products that will be on display at Tex-Trends India will be bedding, table linens, towels, curtains, decorative pillows and chairpads.
India's expertise in handloomed textiles encompasses many types of fabrics, including madras checks, ikats, brocades, jacquards, satin weaves and woolen weaves. Manufacturers of these fabrics will also exhibit at the show.
Exhibitors that manufacture carpets, other floor coverings, decorative accessories and gifts will also be spotlighted at the 2011 show.
The Istanbul Home Textiles Exhibition (Evteks) is scheduled for May 18-22 at the Istanbul CNR Expo Center in Turkey. ITF Istanbul Trade Fairs, owner and manager of the show, said it anticipates attendance to reach 100,000 at the May show.
Floor Covering
The year kicks off for the rug industry at its usual spot in Georgia for the Atlanta International Area Rug Market, featuring the National Oriental Rug Show (NORS). This January also marks the 50th anniversary of AmericasMart Building 1--which first opened at the Atlanta Merchandise Mart in 1961 and holds the four permanent floors for rug exhibitors. This market will also see the introduction of an area rug temporary collection on Floor 2.
Events include the annual America's Magnificent Carpet Awards, honoring the industry's top manufacturers and designers, to be held at the Marriott Atlanta Marquis on Saturday, Jan. 15. The Museum of Introductions (MOI) Gallery, featuring new product introductions in a sophisticated museum setting, will take place Jan. 13-16 in Building 1, Floor 4, 4-B-1.
Starting Thursday, Jan. 13, buyers can visit the area rug section in Building 1, floors 3 to 6, to enter to win the newest Kindle Wireless Reading Device, featuring free 3G wireless and built-in Wi-Fi, in AmericasMart's Krazy for Kindles Giveaway. There will be several drawings daily, and buyers must be present to win.
Through AmericasMart University (AMU), AmericasMart will host several seminars specific to the area rug industry and co-hosted by the Oriental Rug Importers Association. They will include "The Decorative Carpet in Interior Design" and "Walk and Talk the Market with Phil," both on Friday, Jan. 14. On Saturday, Jan. 15, the seminar "Knot to Be Missed" will be presented in the morning to help Oriental Rug Retailers of America members pass the Certified Rug Appraiser's exam.
In addition, World Rug Gallery will be a new tenant at the January show, in showroom 3-C-3. Renewals include Obeetee Inc., in showrooms 5-D-8a and -10, and F-6 and -8; Amici Imports, in 6-F-11; Colonial Mills Inc. (CMI), in 6-E-1 and -2; and Caravan, in 4-G-1. And two companies will expand their showrooms: Karastan, in 3-A-1, will soon have a 1,550 square-foot showroom, while LR Resources in 4-F-3 will now have a 9,300 square-foot showroom.
Overlapping a bit with the Atlanta show is Domotex, taking place in Hannover, Germany, from Jan. 15-18. The upcoming event will offer a new mobile trade fair guide for attendees: DOMOTEX2go. With this guide, users can now locate exhibitors, products, solutions and events on their mobile phones, as well as use an interactive map of the exhibition site to get directions between two locations on the Domotex grounds. The application can be called up at www.domotex2go.de.
Visitors to the Domotex web site also now have access to interviews, news and expert opinions, as well as the design highlights of the 2011/2012 season.
At the show, events include the Souk Deluxe special presentation in Hall 20, during which designer Jan Kath will showcase traditional and modern handmade rugs; the FLOORFORUM in Hall 3, which focuses on four interior design trends for the 2011/2012 season; and the Carpet Design Awards in Hall 21, honoring the season's most attractive handmade rugs.
Rugs are a big part of Las Vegas Market, which has moved from a February time period and will now occur Monday, Jan. 24 to Friday, Jan. 28, 2011. Running concurrently with Las Vegas Market is Surfaces, Jan. 25 to 27 at the Mandalay Bay Convention Center in Las Vegas. One of the show's highlights is its opening general session, which will be given by Aron Ralston, author of the New York Times best-selling book "Between a Rock and a Hard Place," which is now a film, "127 Hours," starring James Franco.
Later that month, in New York, will be the Home Textiles Market Week. At 7 W New York, buyers will be able to take advantage of a number of events. Shop 7 W First on Friday, Jan. 28, offers attendees a day of events with extras, while they will be provided with sips and snacks throughout the floors for Saturday Twilight Shopping on Jan. 29, from 4 to 6 p.m. There are also complimentary lunches on select days throughout the show; commuter, parking and taxi rebates during the show; and complimentary transportation between New York market venues.
At the New York International Gift Fair, Jan. 29 through February 2, the At Home featuring Home Textiles division will feature some 200 suppliers of bed and bath fashions, including area rugs, together on Level One of the Javits Center. NYIGF's home-focused seminars include "Home Trends 2011-2012," from WGSN-HomeBuildLife.com, which will identify macro-trends influencing home and interior concepts, colors and materials on Sunday, Jan. 30, at the Javits Center. On Monday, January 31, New York City's International Furnishings & Design Association (IFDA) will host Color Pulse 2012, previewing key 2011-2012 color trends and their home applications. Complete details and registration is available online at nyigf.com/programs.
Then in March, the New York Home Fashions Market takes place, from March 14-18.
Furniture & Lighting
The lighting industry descends on Dallas again in January, kicking off the new year with the Dallas International Lighting Market, Jan. 20 to 24.
"Only Dallas presents the complete marketplace of products and inspiration for the new year," said Bill Winsor, president and chief executive officer, Dallas Market Center. "Experiencing a January market in Dallas is critical for maintaining business success."
This market will feature thousands of new products from almost 300 exhibitors, complemented by seminars, networking opportunities and more. New showrooms in the World Trade Center include Alan Mizrahi Lighting, #10020, and Avala Lighting, #10025; while Bill Reiman, #10014, and Stylecraft Home, #10074, expand their showrooms. Desert Digs, #11046, Pacific Coast Lighting, #10014, and Stein World, #10000, will debut relocated showrooms.
In the Trade Mart, new showrooms include Authenticity Lighting, #4901, FlowDecor, #4509, and Toshiba Lighting, #3656-02. Edge Lighting, #3653-03, and Ellington Fans, #4515, have expanded their showrooms, while Fanimation, #4943, and Uncommon Radiance, #3060, will debut relocated showrooms.
Seminars during the Dallas market include "Built to Last? LED Strengths and Limitations" on Thursday, January 20, from 9 am to noon, while "Lighting Regulations: How Upcoming Changes will Affect Your Business" will take place on Friday, January 21 from 8 to 9:30 am.
In addition, the 22nd Annual ARTS Awards will be presented on Saturday, January 22, with HGTV receiving the Academy of Achievement Honor this year. Awards in 27 retail/manufacturing categories will also be given out.
To make travel to the show more affordable, Dallas Market Center has negotiated the lowest hotel rates in seven years -- as low as $69 a night. The Dallas Market Center's in-house travel agency, Market Travel, can also give attendees other travel and hotel discounts, and can be reached at 1-800-DAL-MKTS.
In addition, the DMC's Luminary Frequent Buyer Program rewards loyal lighting showrooms by giving them partial hotel reimbursements up to five night hotel stay -- the more consecutive markets they attend, the more they receive off. For more information on that program, attendees can call Lindsey Villarreal, 214-655-7654, lvillarreal@mcmcmail.com.
Overlapping a bit with the Dallas market this year--and attracting exhibitors and buyers in furniture, lighting, home decor, mattresses and rugs--is the Las Vegas Market, which has moved from an earlier February time period to Monday, Jan. 24 to Friday, Jan. 28, 2011.
Among the special market features slated for January, attendees will find an emphasis on innovation in the mattress category. "Dream Big" will showcase displays from the mattress and bedding leaders, and category experts will also be on hand to highlight news and share marketing information.
Alfresco Spaces returns this year, spotlighting the latest and greatest in outdoor decor. International exhibitors join American exhibitors with promises of new and exciting product launches for 2011.
The expanded Vegas Kids showcase in Building C, Floor 4 spotlights the growing market of juvenile furnishings where retailers can increase their bottom line with the strong youth and baby furnishings category.
An array of engaging displays by celebrity designers will also be on hand. Christopher Lowell will shine a spotlight on the lighting category with "Illuminated," an assemblage of eye-opening merchandising concepts for lighting and accessory retailers. Designer Roger Thomas will present custom, hand-painted upholstery and original art created for the Architectural Digest Green Room with "Roger Thomas Green Room at the Oscars." Design aficionados will enjoy a rare compilation of Swedish designs at "17 Swedish Designers," featuring the work of 17 young, progressive Swedish women who specialize in ceramics, furniture and textiles.
Throughout the week, attendees are invited to stop by Hot Spot, a social media bar, located in Building C, Floor 10, where experts are available to set up Facebook and Twitter accounts at no cost and advise retailers on how to maximize social media for their business.
Affordable travel options to Las Vegas include hotel rates starting as low as $44 per night at over 25 properties with complimentary shuttle service to/ from host hotels. To learn more about Market and to receive special offers on hotels and flights visit www.lasvegasmarket.com.
Later in January, in New York, At Home division of the winter 2011 New York International Gift Fair will begin, January 29 to February 2. At Pier 94, the At Home division has expanded, and now features some 300 companies including wall art, lighting and decorative accessories categories. Such companies as Jamie Young Co., Jones & Jones Abode, Roost, and Ro-Sham-Beaux are expanding their spaces, while both Gatelier and Richard Parkman Furnishings are returning to NYIGF following an absence.
The Tupelo Furniture Market, held in Tupelo, Miss.,--"the upholstery capital of the world"--is scheduled for Feb. 18-20. The show features more than 2 million square feet of space. Attendees will be treated to complimentary parking and shuttle service
A national buyer award is presented on the first night of market; a manufacturers representative award if given on Saturday, Feb 19.
In April (2-7), the industry convenes in High Point, N.C. for the High Point Market.Show organizers the High Point Market Authority will continue its impressive schedule of educational seminars and socializing opportunities. The group refers to the market as "the world's home for home furnishings."
Returning in 2011 will be the MyMarket tool, which allows attendees to customize their market week experiences, to find exhibitors, presenters and events, and to save selections for future reference in an itinerary. MyMarket can be accessed online to set up Market schedules and events, view contacts and exhibitors, send messages and set meetings. It is also mobile-browser compatible for smart phones and iPads, offering an on-the-ground ability to link up with colleagues at Market Week.
Salone del Mobile celebrates its 50th anniversary in April (12-17). The Milano, Italy-based show boasts 2,500 exhibitors spread out over 200,000 square meters.
This year's show combines the Salone del Mobile, the International Furnishing Accessories Exhibition, the biennial Euroluce / International Lighting Exhibition and SaloneUfficio / International Biennial Workspace Exhibition and SaloneSatellite.
In addition to world-class design, Salon del Mobile features the city of Milan, where a multi-faceted cultural project will span various different historical locations, with a wide range of cultural events.
The 23rd annual International Contemporary Furniture Fair returns to New York's Jacob Javits Center in May (14-17). The show is a showcase for contemporary design and is a trendspotter's paradise.
More than 550 exhibitors will display modern furniture, seating, carpet and flooring, lighting, outdoor furniture, materials, wall coverings, accessories, textiles, and kitchen and bath for residential and commercial interiors.
The general public is invited to attend the show on the last day.
In June, the lighting industry returns again to Dallas for the second Dallas International Lighting Market of the year, scheduled for June 23 to 27.
Tabletop
The tabletop industry gets an early start on the 2011 trade show circuit with a number of regional gift shows in January. The first of them is the Atlanta International Gift & Home Furnishings Market, which takes place Jan. 12-19 in the permanent showrooms and Jan. 14-18 in the temporary exhibits.
The tabletop product center at AmericasMart celebrates its first anniversary of the launch of Living and Entertaining: Gifts, Tabletop & Accessories. Companies are now showing merchandise intended for everyday use and gift-giving, spotlighting more casual and everyday tabletop, paper tableware and party invitations, hostess and entertaining gifts, candles and candle sticks, artisan tableware and accessories, and trendy and classic tabletop designed for everyday use--items that are dishwasher-, microwave- and oven-safe.
This January, the product center is introducing and welcoming back Southern Tables, Social Trends, The Nest Showroom, Concepts and Signature USA.
Lenox will be relocating and expanding to space 903b and 905. This space will be four times the size of its current space and their second largest space in country.
Mills Floral is also back, focusing on a full-scale bridal showroom and presentation for spring/summer weddings. Waterford Wedgwood Royal Doulton will be also be back, in space 841.
HD Home, derived from the High Design category concept, is also set to debut in January. HD Home is an exclusive juried lifestyles collection featuring design-driven home furnishings and decor manufacturers. For the January 2011 market, eight companies were hand-selected to participate in the HD Home exhibition. Each company has approximately 900 square feet of space to design and stage their product offerings. HD Home, housed on the first floor of the HOME destination in the center hall of Building 1, will act as an incubator and path to the permanent showroom collections at AmericasMart, further strengthening the overall offerings at Market. Designer Alexa Hampton is taking part in the introduction of HD Home with a "meet and greet" and book signing on the opening day of the Temporaries.
The Dallas Total Home & Gift Market, taking place Jan. 19-25, will offer new resources and educational opportunities for buyers, as well as walking tours, networking sessions and special events. Educational seminars include the second edition of InStore LIVE!, The Workshop for Successful Retailers, on Jan. 19. In addition, the keynote address will be "The Bigness of Smallness," presented by John Moore on Jan. 21. Using examples of established brands and emerging brands, Moore will discuss methods for how small businesses can thrive in a crowded marketplace and how big businesses can continue growing when faced with upstart competition.
Showrooms will open early (Jan. 18-24) at the L.A. Mart for the California Gift Show. Temporaries at the L.A. Mart, which are open Jan. 21-24, are comprised of top artisans from North America in Beckman's West, along with home furnishings in the DesignStudio. The Los Angeles Convention Center contains contemporary gift and home decor within South Hall and Kentia - The Global Marketplace, featuring an extensive array of Fair Trade Federation, vintage and jewelry exhibitors.
The Chicago Gift Show overlaps with the California Gift Show, taking place Jan. 20-26 (Beckman's Handcrafted & Temporaries occur Jan. 22-25). There will be a Lunch 'n Learn series covering a variety of retail topics.
A growing Gift + Home--the fastest-growing west coast gift event--co-locates with Las Vegas Market and presents gift and accessory buyers a diverse roster of new permanent showrooms and temporaries in Building C. Complementary breakfast will be served on all of the Gift + Home floors each morning of Market from 8:30 am - 10:00 am.
Later in the month the New York International Gift Fair takes place Jan. 29-Feb. 3 at the Jacob K. Javits Convention Center and at the Passenger Ship Terminal Piers 92 and 94.
"NYIGF continues to evolve with an increased emphasis on fashion-focused resources such as artisanal, design-focused, on-trend and eco-friendly products," said Dorothy Belshaw, NYIGF director and GLM senior vice president. "Technology will play an increasingly important role at NYIGF, with provision of enhanced online search for pre-planning and mobile applications for onsite navigation."
NYIGF has introduced new Internet-based tools to improve planning for and navigating the market. Highlights include search.nyigf.com, a robust new micro-site search engine, and nygift.mwap.at, a free new NYIGF mobile application. Both of these online tools allow users to search specifically by keyword, product category and location, or broadly by categories such as "new exhibitors" or "exhibitors with new booth locations," and searches can be saved.
New York's Newest, a division which was reintroduced to NYIGF in summer 2010, will expand at Pier 92 to showcase some 250 newcomers to the New York market and the industry at large. Further refinements are planned for Handmade, following its summer 2010 reorganization into two distinct categories--Handmade Designer Maker and Handmade Global Design--which groups artisans by process and provenance. The Licensing Gallery at NYIGF, an annual business-to-business forum comprised of individual artists, designers, licensing agents and design studios, returns. Its 30-plus participants will present a broad assortment of art and design for license and sale to manufacturers and product developers of home products.
Tabletop & Housewares welcomes the return of leading design-focused lines and will accommodate the expansion of key tabletop and housewares suppliers for the winter 2011 market. Several American and European companies have expanded their exhibit space, including Deborah Rhodes (luxury table linens); Joseph Joseph (contemporary kitchen and cookware accessories); Mastrad (kitchenware and silicone utensils and gadgets); Picnic Time (picnic, outdoor, and lifestyle products); and Reed & Barton (sterling silver and stainless steel flatware). Several design-oriented companies also will return to Tabletop & Housewares following an absence from the New York market. They include Alexandra Von Furstenberg (modern acrylic tabletop accessories), Mane Lion (hand-painted dinnerware and accessories), and Scantrends (Scandinavian housewares, collectibles, and accessories). In additionally, Arbiter, a new wholesale division of Salt of the Earth (high-quality artisan items from Italy) and Make International (design-driven whiteware) will make their NY market debuts within Accent on Tabletop--a concentration of design-driven tabletop and home entertaining product suppliers bridging NYIGF's Tabletop & Housewares and Accent on Design divisions.
Gift & Home Textiles Market Week will take place at the same time as the Gift Fair at 7 W New York. Opportunities and events will include Shop 7 W First on Friday and Saturday Twilight Shopping. At Forty One Madison, approximately 30 showrooms will have their giftware and accessories front-and-center for the winter show. A select few will have "teaser" displays in the building lobby, just a preface of some of the discoveries to be found on the floors above.
"Over time, staple brands with permanent showrooms at Forty One Madison have introduced giftware collections and have changed their minimums to meet the needs of smaller gift stores," said Laurie Burns, Forty One Madison's senior vice president and director. "There is a strong showing here for show buyers to see."
Many historic "Made in Italy" brands are returning to the Italian show Macef in January, including Sia, Richard Ginori and Bialetti, while several other tabletop companies, including Alessi, Villeroy & Boch, Ballarini and Barazzoni, have renewed their commitment to the show. The show takes place Jan. 27 - 30 in Milan and maintains the Thursday through Sunday format that was successfully implemented last September. The two pavilions that are devoted to Table and Kitchen, 1/3 and 2/4, will be combined in a single area rendered uniform by the architecture.
In February, the tabletop industry will head to Frankfurt, Germany, where the Ambiente fair takes place Feb. 11-15. The fair, known for trend spotting and the first opportunity to see major tabletop launches, is a significant draw for tabletop suppliers across all product segments as well as retail buyers from around the world. The Dining product area will fully occupy Halls 1 to 6, which encompasses the whole of the eastern section of the Fair and Exhibition Centre, and Halls 10.2 and 10.3. This year the slogan is Coming Home, underscoring the importance of entertaining at home.
"In 2011, the leading international fair Dining will be reaffirming its role as the industry's most significant event," said Thomas Kastl, director, Dining. "We will be welcoming all the big names the Dining market has to offer, thus creating a unique global product and communications platform for our visitors." Last month, Kastl said that 2,050 exhibitors had already registered for Dining, reaching last year's level.
In March the focus returns to domestic markets, specifically the International Home & Housewares Show in Chicago March 6-8. The show will include a new category called Discover Design, whose participants will be chosen by retailers, industry experts and International Housewares Association staff based on inspired design, quality, brand positioning, outstanding craftsmanship, exclusive market focus, retailer and consumer favorites and design-focused sustainable product. The category will be located in the Tabletop, Kitchen Essentials + Accents section in the Dine + Design Expo in the South Building.
The New York Tabletop Show will take place at Forty One Madison on April 12-15. Lobby tables featuring products from building tenants will be created by a national consumer magazine, and the building will host an after-hours reception on April 13. It anticipates hosting another program that will build on the initiative, started earlier this year, to help bring more interior designers to the building, according to a spokeswoman.
"As Forty One Madison showrooms are busy preparing their 2011 spring collections, I see promise that the upcoming tabletop market will be an even more positive and exciting one than ever," said Burns. "Traditionally, manufacturers introduce more at the spring versus fall market, and I think buyers will not want to miss that April show. Expect to find great products at value-price points, whether on the luxury or lower end of the spectrum. This is what will drive retail business in the future."
7 W New York will set the stage for outdoor living with a garden party theme during the tabletop market, along with the typical slate of educational seminars, programs and amenities.
Housewares
The trade-show New Year begins in housewares with the Atlanta International Gift & Home Furnishings Market.
A major highlight of the January Atlanta Gift Show will be the debut of an expanded gourmet/housewares permanent product center on the eighth floor of Building 2 WestWing, which opened at last year's show. This new center exemplifies the goal of the new building, which is to make the show a major player among housewares trade shows, especially in the gourmet-product sector. This area will encompass more than 150 gourmet and housewares vendors, and showcase more than 300 new product lines, according to AmericasMart Atlanta.
The Atlanta Gift Market will also present a slate of celebrity chefs. These include Duff Goldman, known as the "Ace of Cakes" on the Food Network; Marcel Vigneron of Bravo's "Top Chef"; Virginia Willis, author of "Bon Appetit Y'all"; local Atlanta chefs Gerry Klaskala, Shaun Doty and Mary Moore; Patricia "Sister" Schubert; Helen Chen, creator of the Helen's Asian Kitchen collection; and Linton Hopkins, a three-time nominee for the James Beard Award and cited as one of Food and Wine magazine's "Best New Chefs."
The New York International Gift Fair, which runs from Jan. 29-Feb. 3, will provide its usual presentation of housewares exhibitors in the Tabletop & Housewares featuring Accent on Tabletop section, which will have an estimated 200 resources in these categories.
GLM, owner and manager of the Gift Fair, is still in the process of integrating the Gourmet Housewares Show into the summer version of NYIGF, which will take place in August. After surveying retailers of gourmet products, GLM scheduled the Gourmet Housewares Show at NYIGF for Aug. 14-18.
From March 6-8, the International Home + Housewares Show will take place at its usual venue, McCormick Place in Chicago. Landmark labor reform legislation in Chicago will help exhibitors save money on electrical labor rates and service costs as well as reduce other overall costs, according to the International Housewares Association. The new labor changes include expanded exhibitor rights, a more flexible work schedule, reduced electrical labor rates and services, and reduced costs on food and beverage.
Meanwhile, to make searches for exhibitors easier for buyers and the news media, the International Housewares Association, the show's sponsor, is reintroducing its Online Show as Housewares Connect 365. This online feature allows users to create their own "briefcase" to save exhibitor listings and make a map of the exhibit floor with the selected exhibitors highlighted. This will be available 365 days of the year as well.
Among the new special destinations at next March's show is Discover Design, a new category in Dine + Design in McCormick Places' South building. This section will spotlight product design from around the world. Also in South will be the Gourmet District Cooking Theater, with gourmet food, specialty products and celebrity chefs in action, all in one location.
Special displays slated for the Housewares Show include Design Defined; new product showcases; Inventors Corner and Inventors Revue; Pantone Color Watch, featuring color trends for 2012; Design Directions, which will focus on sustainable products and packaging; the 2011 Student Design Competition; and the Global Innovator Awards, featuring retail merchandisers from around the world along with the new Gia award for product innovation.
The international portion of the housewares trade-show calendar begins with Ambiente, scheduled for Feb. 11-15 at Messe Frankfurt in Frankfurt, Germany. As usual, the housewares exhibitors will be located in the Indulgent Dining section, spanning Halls 1 to 6.
One feature of Ambiente will be the fifth annual Kitchen Innovation of the Year award. Products will be evaluated by a jury consisting of experts in cooking, lifestyle and design, along with an economist, an architect and politicians. The criteria include functionality, benefits, innovation, design, ecology and sustainability.
Next April will bring three housewares trade fairs in Asia. Hong Kong will provide the site for two of the fairs--the China Sourcing Fair at the Asia World-Expo, and the Hong Kong Houseware Fair at the Hong Kong Convention and Exhibition Centre. Both shows are scheduled for April 20-23.
From April 19-22, the Bangkok International Houseware Fair is scheduled at the Bangkok International Trade and Exhibition Centre. This show will run concurrently with the Bangkok International Gift Fair.
Consumer Electronics
The Consumer Electronics Association will hold its annual International CES show in Las Vegas from Jan. 6-9.
The venues are the Las Vegas Convention Center/Las Vegas Hilton and the Venetian Hotel. Last year's CES brought more than 126,000 attendees to look over products from 2,500 exhibitors. Those vendors came from more than 130 countries around the world.
Home entertainment, digital health and fitness, gaming, emerging technology and lifestyle electronics are among the product categories that will be represented at the upcoming show.
Innovation will be a prime focus of many of the conferences and supersessions that are scheduled for the show. Of particular note is the CES Innovation Power Panel, which will be the first power panel of its kind for the show.
John Chambers, chairman and chief executive officer of Cisco; Jeffrey Immelt, chairman and CEO of GE; and Ursula Burns, chairman and CEO of Xerox, will deliver keynote addresses at this power panel. All three will provide their thoughts on how innovation is crucial to their companies' success, and how innovation has made their companies global leaders in their industries.
The association's Shawn Dubravac, chief economist and director of research, has projected two major trends for consumer electronics in 2011, going into the January CES. Next year will be "the year of the tablet," Dubravac said. With last year's debut of the iPad, this category has begun to gain mass-market appeal after a decade of minimal success.
Next year will also be "the year of 3D," Dubravac said. Three-dimensional products and content were front and center at the 2010 CES, and he predicted that the 2011 version "will again play home to the entire 3D ecosystem." He said 3D will expand to include products in eyewear, in vehicles, in mobile devices and in digital signage.
Von Tobel Cites Brass Textures Among Top Trends

   More Videos
Subscribe to
HFN Omnichannel
Receive the news you need to know about the trends in the industry delivered right to your inbox.


HFN's DIGITAL EDITION

September 2017


COVER STORY:

2017 State of the Industry Report
Cautious Optimism, Mixed Results

Many expected 2016 would be a banner year, but the political and economic climate softened consumer confidence. It was also a year consumers spent more lavishly on home remodeling rather than decorating.


ALSO IN THIS ISSUE:

TJX Unveils First U.S. Homesense Store - In a time when retailers are reducing store counts, TJX continues to get physical.
Ikea's Fluid Spaces - The retailer's new intros reflect multifunctional rooms.
N.Y. Home Fashions Market Preview - Textile textures get soft and cozy, colors warmer.

Subscribe to Digital Edition
Tweets by @HFNmag