Two Retailers Win Midwest-CBK, Colonial Candle Travel Sweepstakes
Posted on 
March 21, 2012
 by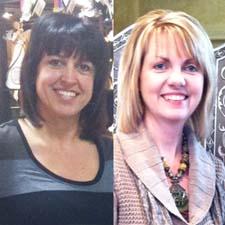 Koula Louras,left, and Jessie Latt
CANNON FALLS, Minn.-Two independent retailers will be packing their suitcases and traveling to Paris on Midwest-CBK and Colonial Candle as winners in the companies' first "Passport to Success" sweepstakes.
Winners include Koula Louras, owner of Rand & Euclid Shell/Express Gifts in Mt. Prospect, Illinois, and Jessie Latt, owner of Parkview Nursery and The Boston Fern in Aberdeen, South Dakota. As prize winners, Louras and Latt were presented with the opportunity to choose from a trip for two to Paris or the Bahamas. Both Louras and Latt selected Paris, and each will be traveling in September 2012 with their husbands. Winners were selected in a random drawing from among all eligible entries received during the winter 2012 markets.
"I cried when I found out Midwest-CBK and Colonial Candle chose me - as a gift shop owner, I haven't had a day off in 27 days!" said Louras, who entered the sweepstakes during the Atlanta gift market. "I've never been to Paris. I'm so excited to hit the gift shops - Louis Vuitton here I come! I can't wait to see what's out there in the European markets. Of course, I'll enjoy the French cuisine and quality time with my husband of 27 years."
Latt has owned and operated Parkview Nursery, a garden center and nursery, for 15 years. "It's been a dream of mine to go to Paris since I was a child - I'm thrilled to go," she said. "We're planning to see the Eiffel Tower, visit the Louvre and several other museums. Monet is my favorite artist so I'm looking forward to seeing many of his paintings in person. I plan to enjoy some really great French cuisine. My husband and I look forward to a fabulous dinner at famous Le Grand Colbert restaurant! Thank you to everyone at Midwest-CBK for the trip of a lifetime!"
advertisement
advertisement
Tweets by @HFNmag