Walmart Q2 Net Up 0.6 Percent as Sales Gain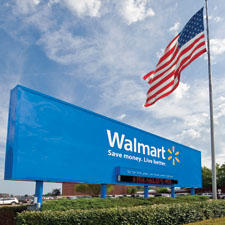 BENTONVILLE, Ark.-A modest gain in sales helped Walmart to an even more modest 0.6 percent increase in its second-quarter net income, which totaled $119.3 billion.
Net sales in the quarter, which ended on July 31, reached $119.3 billion, which included flat same-store sales from both Walmart's U.S. stores and from Sam's Club warehouses. In addition, same-store traffic at Walmart U.S. was off 1.1 percent, offset by a 1.1 percent increase in average ticket.
Analyzing these results in a recorded conference call posted on Walmart's website this morning, Doug McMillon, the company's president and CEO, declared that he was "not satisfied" with the results from the U.S. stores, although McMillon also noted that the business is "gaining traction" on its goal to have positive same-store results by the end of the year. In addition, he said, the Neighborhood Markets format delivered a pickup of 5.6 percent in same-store sales.
In home, Greg Foran, recently named president and CEO of Walmart U.S., said this area of the business produced flat same-store results, with some strength from e-commerce and from national brands such as Farberware, Shark and Keurig. At Sam's Club, according to President and CEO Rosalind Brewer, home (along with apparel and hardlines) brought a mid-single-digit same-store gain, including a double-digit increase in kitchen electrics and a high single-digit pickup in mattresses.
McMillon also said Walmart International turned in "a very solid performance" (net sales were up 3.1 percent). In addition, sales from Walmart's e-commerce and mobile-commerce segment rose 24 percent in the quarter.
For the company as a whole, gross margin was down 10 basis points to 25.1 percent. Operating, selling, general and administrative expenses rose 3.3 percent in dollars and nine basis points as a percentage of sales, to 19.5 percent.
Closing his portion of the conference call, McMillon vowed that Walmart would continue to move ahead in improving its customers' shopping experience in all of its formats. "Our enterprise strategy dictates that we move with speed and agility to serve our customers more effectively," he said. "We're pushing to save them time and money, both in store and online."
Video: Color Comes on Strong at High Point Market

   More Videos
Tweets by @HFNmag