Blogs
Atlanta Market Blog: Bold Colors Everywhere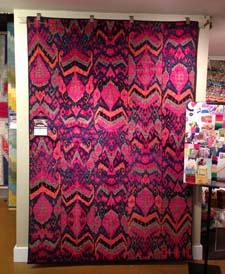 It's all about color at the Atlanta International Area Rug Market, going on now through Sunday. Companies introduced designs falling into one of two groups: the vivid brights or softer hues.
"I've been in the business for 22 years, and I've never seen a fuller spectrum of colors," and across all price points, said Larry Mahurter, vice president of marketing/advertising, Couristan. In the neutral color palette, the company's new Marina line uses a softer combination of elements and colors, he said, and is made of heat-set polypropylene.
Oriental Weavers' Kaleidoscope is a new cross-woven collection that brings in the brights. Made of polypropylene, the collection is available to ship mid-spring and has 25 patterns. The company also debuted Casablanca, which is made of a polypropylene/nylon blend. The nylon allows the ability to space-dye designs for an antique look, said Aaron Gray, director of marketing. Lagos is another boldly bright line, a cut-and-loop indoor/outdoor collection. The outdoors category "is really becoming a fashionable part of the home."
Orian's new Veranda line is also full of vibrant colors, with such designs as suzanis, floral, starburst and paisley. Offered in both indoor/outdoor and indoor designs, it is made of polypropylene, with some jute for the indoor-only rugs.
The flatweave category continues to grow, and Concepts Intl. debuted dhurries in cotton, rather than wool, for a crisp look. Called the Brighton collection, it has seven designs and uses fine combed cotton. The company also unveiled Tangier, a semi-shag, cut-and-loop wool line with Moroccan tribal patterns.
LR Resources debuted its new shag collection of solid colors, which includes area rugs, butterfly-shaped rugs and decorative pillows. The company is starting to do more coordinating rugs and pillows that stay within the same color and texture stories, said Amy Roberts, sales support. The company also offered hard bamboo rugs in both container and stocking lines. "We're expanding our natural fiber line," said Melissa Johnson, showroom manager. "It's been selling really well and goes with the green story."
More attention has also been made to using natural fibers. Kas has expanded its natural line to include such combinations as jute and viscose, used in its Marina line. "People are looking for something understated but with something going on," said Wendy Reiss, who was promoted to vice president of key accounts last month. "Adding another fiber helps achieve that."
Couristan is expanding its offerings in fibers other than polypropylene, such as polyester, said Mahurter. Its new Kew Gardens, for example, is a new handtufted and carved polyester line.--Andrea Lillo