Atlanta Rug Market Opens Today
Posted on 
January 8, 2014
 by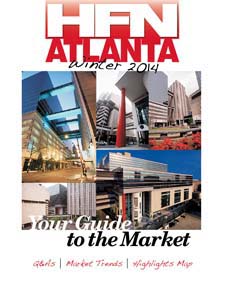 HFN Atlanta is being distributed at the show.
ATLANTA-The Atlanta International Area Rug Market gets underway today as the rug industry unveils to the trade the first rug designs for 2014.
The events on schedule for today include a presentation from designer Lotta Jansdotter at Surya (11-A-1), which will begin at 2 p.m. Then, from 3-4 p.m., Henrietta Spencer-Churchill will present "Using Rugs and Accessories to Personalize Your Home" in the Seminar Room on Floor 14, and which is sponsored by Loloi.
Couristan (6-D-11) welcomes designer Emma Gardner from 3:30-5:30 p.m., and attendees will have the chance to win one of three emma at home prize packages, including an area rug. Beginning at 4 p.m. Oriental Weavers (3-A-2) celebrates its new Tommy Bahama license.
Product introductions include Nourison's Timeless collection, which consists of 14 designs influenced by original rugs of Eastern origin dating back to the 15th century. Throughout market, the collection will be displayed in a museum setting in showroom 3-F-3, next to Nourison's showroom.
Other events for market include the annual America's Magnificent Carpet Awards, which will take place Friday, Jan. 10, at the Hyatt Regency.
In addition, be sure to pick up an issue of the exclusive HFN Atlanta, which is being handed out at the show. Besides trends and product news, the issue also includes such features as a map of new and historic highlights in Atlanta.
advertisement