Blogs
Blog: Atlanta Rug Market Wraps Up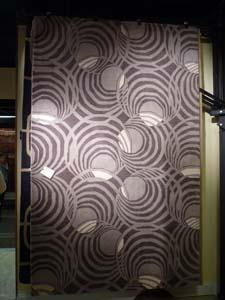 ATLANTA-The Atlanta International Area Rug Market finished up yesterday at AmericasMart, where exhibitors debuted collections as well as product categories. Among the themes were color and texture, which continue to perform well with consumers.
The 'Made in the U.S.A' distinction remains important, and manufacturers continue to strengthen their production here. One hundred percent of Karastan's line is now made in the U.S., said Steve Roan, vice president, and the company will now use a new tag line going forward -- "Still Made in the U.S.A." For retailers, he said, having product made here makes everything more available. "If I'm out of stock on something, I can have it made in two weeks, max," he said.
Central Oriental is also expanding its production capability at its facility in Maine; its eighth loom will be installed within a month, said Jim Thompson, vice president of sales and marketing. While the standard loom runs 110 rpm, the new one will be 180 rpm, he said.
New lines included Shaw's expanded Bob Timberlake collection with the artist, which had a soft launch at April's High Point Market. All inspired from Timberlake's paintings, the five designs included a stained glass pattern and an antique quilting one.
Along with new rug designs, Surya launched a pillow collection under its Candice Olson license -- 40 designs in total which follow her black, white and gray palette. Its Happy Cottage rug group, part of its Country Living license, adds fun, colorful designs to the floor. "We're excited about the colors and the simplicity of the designs," said Al Mortensen, vice president of merchandising and product development. "It speaks to the Country Living consumer." Surya also launched its Style and Trend Guide, a 26-page publication for sales people. "We want to do it every quarter," said Mortensen.
Ikat designs continue to thrive, and at Surya they were found in the Matmi collection. Safavieh's new Indian Sojourn with designer David Easton also had ikat designs that were done with a soumak weave.
Harounian Rugs Intl. unveiled several new collections. "We're a traditional company but we've introduced some more modern looks," said Bob Ball, sales rep. Mesh, for example, is a burlap stamped-look group in five designs. In addition, the company introduced its first polypropylene line, called Pozitano. "It targets a younger buyer," he said, someone who is not ready to invest in a handknotted rug yet.
Oriental Weavers debuted several collections, including the colorful indoor/outdoor Caspian group, in stock in October; Palermo, which is of space-dyed nylon in 20 patterns; Zanzibar, which has simple designs in polypropylene and uses two or three colors each; and Milano, which uses an ikat-weaving technique.
Color continues its reign. Nourison launched a new shag called Stylebright that comes in five colorways. Momeni's Vintage line is a colorful, machine-made group that consists of overdyed, patchwork designs. LR Resources brought in an array of color in such categories as rugs, throws and pillows. One polyacrylic group debuted bright colors for the first time, Lynne Meredith Williams, designer, LR Resources, said. "People were asking for it."
Kaleen's new collections included Astromony, which include simple, transitional designs named after astronomers and space terms. Another new group was called Bimini, an indoor/outdoor braid made of polypropylene. The braid's core is also polypropylene, said Joe Barkley, executive vice president.
Along with its new Waverly licensed line, Rizzy Home offered a little booklet for the collection to help retailers.
Handknotted introductions included the new Kabul collection from Ebisons Harounian Imports. While it has Peshawar styling, it is made in China, allowing for such colors as paprika and cinnamon, said Michael Harounian, principal. Amer introduced Ottoman, an 8/8 handknotted group of six designs made of raw, handspun wool. - Andrea Lillo