Blogs
Blog: Decor and More in High Point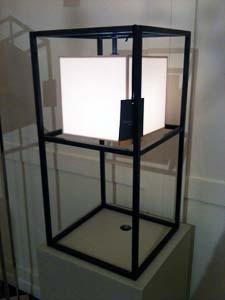 HIGH POINT, N.C.-Buyers enjoyed a sun-drenched day at High Point Market yesterday as they combed the showroom-packed streets and buildings here for the latest and greatest. The market concludes tomorrow.
The initial launch of Soicher Marin's Conde Nast wall decor collection debuted with a number of vintage photographs and illustrations from the publisher's archives. Culling through the eight million images available, Soicher Marin wanted to be selective, and "tell a story," said Ed Marin, president. The initial group contains images from the mid 1940s to early 1960s from Vogue and Glamour ... Rug company Horizon Home Imports debuted decorative accents under the brand name Fashion & You. The new line consists of candleholders, bowls, lanterns and objets like miniature airplanes and cannons, all made of iron, steel and brass. Furniture such as tables will be added in the future ... Wall decor company Spicher & Co. added decorative pillows at market, with a collection of about 25 designs, including punctuation signs, silhouettes and animals.
Uttermost's new rug collection includes handknotted, handtufted, hand looped and hand woven designs. Among the hits were the naturals collection, using hemp and jute with recycled leather and cotton chenille. "The naturals have done especially well," said Mac Cooper, president. The handknotted rugs were also well received by customers, he added ... Visual Comfort added new designers to its line at market, as well as expanded existing designer lines. New York architect and designer Barry Goralnick's new collection includes sculptural chandeliers and floor and table lamps, while interior designer Eric Cohler added new pieces to his collection, including a table lamp version of his popular pendant. Designer Thomas O'Brien went to the other end of the design spectrum for the company, adding pieces with an early American feel, a departure for him ... Feizy debuted a printed jute flatweave collection at market called Moneta. It's been five or six years since the company debuted a jute collection, said Cameron Feizy, vice president of sales, and the new collection was well received. Made in India, the line contains five designs.