Blogs
Blog: Lighting, Rugs and Accessories Abound at High Point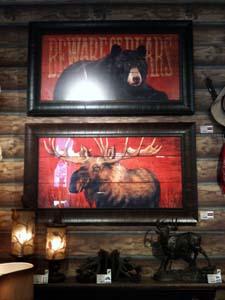 Crestview's new Dick Idol collection.
HIGH POINT, N.C.-With the start of High Point Market this past weekend, manufacturers launched a number of new licenses and other programs to retailers.
The Dick Idol collection launched at Crestview in lighting, wall decor, accessories and accent pieces. Before, these categories were split among manufacturers but now "we get to merchandise the category together," said Bryan Williams, executive vice president. The items also take the lodge and rustic looks to a new level, he said, and some items are transitional and more contemporary in feel.
Shaw debuted its Bob Timberlake line with three initial designs: Forest Ferns, Hearthside and Heritage Heriz. Made of Shaw's exclusive Evertouch nylon, each design is offered in several colorways.
Momeni launched a new display unit, about three by six feet large. "We have so many collections, we wanted to make it as easy as possible" for retailers and consumers, said Ali Momeni, vice president of operations. The two-tier display has removable boards with an 18-inch sample on one side and collection information on the other. It includes both its area rugs as well as its new broadloom collections.
Artisan House teamed up with Walt Disney to commemorate the 40th anniversary of the It's a Small World ride at the 1964 World's Fair. Consisting of five pieces, they range from a more literal viewpoint of the ride to more abstract pieces.
Dreamweavers used leftover scraps from apparel to create its line, and at this market that included shearling and sneaker material, with stunning results. "Everyone wants glamour in their life," said Jason Duren, spokesperson. Another new rug incorporated leftover tie scraps, so no two are the same.
Capel debuted its largest number of collections in years: 22. "There were so many things we wanted to do," said Tami Watras, vice-president, product and creative director. It also merchandised the showroom into the "Must-Cs," pulling together similar looks together under one title, such as Capel Color for its color story, Capel Cozy for textured pieces, Capel Conscious for its green story --and for those in need of a sugar rush, Capel Candy. Its custom program is now pulled into what it is calling the Creative Concepts program, offering 120 fabrics and six bases.
The Phillips Collection expanded its Karla d'Lara collection with 400 new items. The new group launched in Las Vegas in January. The company also redecorated the showroom to give it a more open look. "We wanted to take it into the 21st Century," said Jason Phillips, designer.--Andrea Lillo