Blogs
Blog: Rugs at the New York Home Fashions Market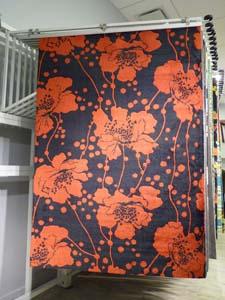 This week's New York Home Fashions Market saw the unveiling of many new collections from rug exhibitors as well as showrooms. Here is a sampling of what was seen this week:
Nourison:
Along with its new showroom in 295 Fifth Avenue, Nourison also unveiled its new yet-unnamed chromajet collection, which consists of screen printed designs on one of three polypropylene bases -- straight cut pile or a leaf or checkerboard pattern. "We've always done chromajet printing in our domestics area," said Jeff Gonzalez, director of furniture store sales/Calvin Klein Home, for seasonal and other items, but this is the first time in its area rug category. "This is a game changer...You get so much clarity and depth." The company brought about 80 designs to market, and which include floral, juvenile and geometrics. A 5-by-8 will retail for $149.
Nourison also expanded its indoor/outdoor offering, with chromajet printed items on a polypropylene base. "We're adding fun, bright colors to the indoor/outdoor category," he said. "They work with the colors trending in indoor/outdoor upholstery."
The company also recently appointed Brad Carmody as showroom manager for the new New York showroom.
Kaleen:
Kaleen focused on the green angle at market, launching three Terraverde lines. Terraverde PVC, made with recycled PVC, offers functionality and design. "We've been making this product for years for private label," said Joe Barkley, executive vice president. But while that was utilitarian, "we decided to bring fashion to it." Patterns include scrolls, leaves and damask looks and a 5-by-8 will retail for less than $199. In addition, the company also showed Terraverde Seagrass and Terraverde Sisal, and will offer different weights and colors in the collections.
In its polyacrylic line, it is showing several new collections to retailers for feedback, Barkley said, and it will officially launch the final new selections at January's Atlanta International Area Rug Market.
Surya/Artistic Weavers:
Artistic Weavers debuted in the Surya showroom at market as the company's new label for the mass market channel. "Our mission is to be inspired by the design community and take product to the masses," said Paul Sullivan, senior vice president, sales/national accounts. One of the new collections was Himalaya, a tufted polyester group that was overtufted for added texture. A 5-by-7 will have a suggested retail of $179. Faithful is a group of wool flatweaves, retailing for $129 for a 5-by-8. Sumara offered designs of cut pile and loop high/low texture, handtufted in India. The handcarved and handloomed Mantra line consisted of tonal looks in wool and included such looks at stripes, geometrics, florals and patchwork.
Kas Rugs:
Kas put more emphasis on indoor/outdoor at this market, showing its new Meridian line, handhooked of polypropylene. "It's a category we feel strongly about," said Wendy Reiss, key account manager. With 14 designs in the line, a 5-by-8 will have a suggested retail of $299. Another indoor/outdoor group, Horizon, is a machine-woven polypropylene line that is design driven, she said, and will retail for $149 for a 5-by-8.
In addition, the company unveiled its Versailles group of chenille tapestry designs. The machine-made transitional group will retail for $299 for a 5-by-8.
Shaw Living:
Shaw brought in a complement to its Catalina collection, called Coronado. A tufted accent and area rug group, "it marries both ikat and ombre techniques," said Neil Hegwood, creative director, and has such features as space dyeing. Made of a polypropylene and nylon blend, the group consists of 15 designs and nine colorways, in both brights and neutrals, and styles include transitional and ethnic looks. "It's been received very well," said Shane Watson, national accounts manager.--Andrea Lillo