Blogs
ICFF Offers the Fun and Functional, With a Focus on Walls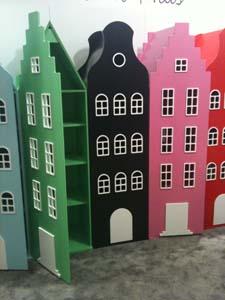 NEW YORK-This year's International Contemporary Furniture Fair did not disappoint with introductions focused on both the fun and functional and the sophisticated and stylish.
While all areas of the house were covered -- including the outdoors -- wall surfaces scored as the hot trend at the show, with many exhibitors showing a wide range of wallpaper and other decor. From Grow House Grow, which has a story behind each very decorative wallpaper design, the newest style is called Tackapousha, who was chief of the Massapequa Native American tribe. It comes in vibrant green, coral and gray colorways. More natural looks were on hand at NLXL, which debuted wallpapers called scrapwood, concrete and Merci, which is reminiscent of tin ceilings. Designer Lisa Sacaris showed a handpainted faux bois felt wool for the wall.
The New English showed the Jubilee tabletop collection from designer Alison Jackson in honor of the Queen's Jubilee next month, celebrating Queen Elizabeth's 60-year reign. The limited-edition collection uses images of an actor playing the Queen doing everyday activities, such as washing dishes, watching Wimbledon and, here, feeding her corgis. The collection is made in Stoke-on-Trent, England of fine bone china; there are tea towels as well.
Having debuted at ICFF last year, Espacio from designer Sami Hayek was back and showed the next generation of furniture, lamps and other accessories using Mexican artists. Shown here is a dresser which has an intricate design of glass beads pressed into wax by hand.
Brooklyn-based company Babette Holland returned to exhibit at ICFF after 17 years, and introduced a new assortment of colors, metallics and patterns of portable lamps. The new items focused on four trends: updated mid-century modernism, classical modernism, sculptural forms and oversized accessories.
Also from Brooklyn was Gin Art & Design, which debuted its portable lamps made of 45 records and furniture that uses leftover fabrics from the handbag industry.
Fun storage pieces from Dutch company Kast van een Huis debuted in the U.S. Pieces in its Closets collection are available in a number of colors and come in three gable-types and three sizes.
Fagor America came to the show for the first time as well, teaming up with Box Kitchen to show an integrated appliance and cabinet set.--Andrea Lillo