Blogs
Blog: George Watts Rekindles the Love in Milwaukee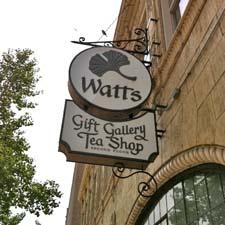 Sometimes one of the biggest dilemmas you have when planning a celebration is deciding what kind of party to have.
Milwaukee specialty store George Watts & Son, which is marking its 143rd anniversary on Sept. 27, decided that the best way to mark the occasion would be to honor those who made it possible, namely its vendors and the Milwaukee community. So this Thursday it is having an open house and inviting all its vendors to join the party and get a chance to meet many of the retailer's customers, both old and new.
"The focus is to celebrate 143 years, but the reason we're here is because of [our partners] and we wanted to give back," said CEO Sam Watts. The store has been running radio ads and messages in the local media as well as on Facebook, Twitter and email. "We wanted to make sure that anybody we could reach knows that we are a family business, a fifth generation business, a female-led business," Watts said. His grandmother is chairman of the board and is well known in the community.
In addition to its usual broad tabletop assortment, George Watts has brought in full collections from vendors such as Juliska and Mariposa, and throughout this week is hosting demonstrations, giveaways and Gingko bucks, or vouchers that can be spent in the store. It will also collect customer memories from over the years; one winner will receive a Waterford vase.
When the company celebrated its 140th birthday a few years ago it held an open-house party with food and beverages. "It was amazing to see the people who came out," Watts said. People who hadn't been in the store in 20 years but had a strong connection to it or its employees came by to visit. Watts hopes the same thing will happen this time around, providing an opportunity for the community and its vendors to mingle and either start or rekindle relationships that he hopes will last for many years to come. - Allison Zisko