Blogs
Blog: Housewares Show Wraps Up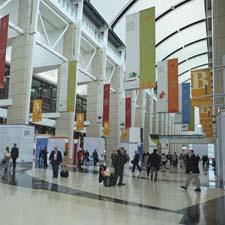 CHICAGO--The International Home + Housewares Show winds down today, just ahead of an anticipated snow storm.
Color continued to be big at the show. Shades of blue--ocean colors that range from deep blue to turquoise--have made one of the biggest color statements at the show. Vendors such as Anchor Hocking, Sagaform and Homer Laughlin's Fiesta ware and Paula Deen tabletop are presenting their wares with the ombre effect.
Le Creuset showcased its new yellow, called Soleil, available throughout its product line. It also launched its first kitchen towels, including a three cotton kitchen towel set in striped colors ... Lifetime Brands added color to many of its lines, including KitchenAid, Misto, Farberware, Silpin and Guy Fieri. The Guy Fieri line also debuted its first bakeware and serveware items, in such colors as blue, yellow and orange, as well as his new cutlery line and his first-ever ceramic cutlery items ... Dupont debuted two new colors in its non-stick coating line: Spicy Olive and Aubergine Purple. They join the new colors for 2012, Hot Chili, Lavender Blue, Champagne Gold and Ivory ... Kitchen tools and gadgets company Tovolo expanded its line with orange peel, fuschia, midnight black and purple.
In addition to plenty of product introductions, World Kitchen's booth featured a new leadership team: Carl Warshausky, the company's new CEO and president; and Kris Malkoski, president of World Kitchen North America.
Imusa debuted its first cookware line using ceramic non-stick coating. Offered in three thicknesses--2.2, 2.5 and 3.0 mm--the line includes soft-touch handles and saturated color ... Sleep Innovations introduced a new brand of kitchen mats called Comfort Co. produced with polyurethane foam ... Neato expanded its XV line of vacuum robots with the Signature and Signature Pro Series ... Ceramic nonstick coating was also featured on Lancaster Colony Commercial Products' new Pensofal Passion bakeware and cookware line. Using a ceramic non-stick coating called BioCeramix, the line includes such details as a lid that both allows oil to be added during cooking as well as serves as a stand for the pot at the table.