Blogs
Blog: A Labor of Love in the Pacific Northwest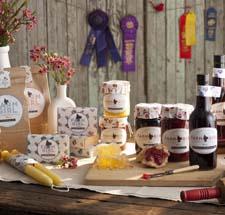 The Farm Girl collection
Rosanna Bowles is committed to bringing Americans to the table for a meal, and she has hit upon a new way to do so.
The Seattle-based tabletop designer has developed a line of breakfast-type food like jams, jellies and honey produced by American farmers in the Pacific Northwest. She is pairing this Farm Girl line with a new collection of tabletop accessory pieces like covered butter dishes and small bowls called Farmhouse Pantry. They debut from Rosanna, Inc., at the Atlanta International Gift & Home Furnishings market this week.
The project--the result of a desire to support an American business--became a true labor of love, Bowles said. After casting about for a while for the right business to support, she discovered it in her own backyard, so to speak. The local farm-to-table movement in the area is strong, and Rosanna, who grew up in the region, remembers her mother shopping at local farms. "We have this wealth of fertile land and products ... it's all right here, in Oregon."
She is particularly fond of the local berries, especially the indigenous marionberries, an "amazing" combination of blackberry and raspberry ripened to perfection "like a good wine." Rosanna has transformed them into jam.
Farming was a completely new industry for Rosanna and there was a steep but rewarding learning curve. There is no margin in food, she says, and the farmers work so hard. "It's more for them a passion, an avocation, it's in their blood," she said. "It's very much a part of the America in which I grew up. It's a story that needs to be told."
Rosanna wants consumers to know and appreciate that story and figures there's no better way than over a delicious meal on pretty tabletop pieces. Rosanna considers the Farm Girl food and the Farmhouse Pantry tabletop to be an important part of the eat-better, food-appreciation lifestyle. "It will reinvigorate tabletop in a different way," she said. "This is more compelling because it ties into so much more."
This particular search for meaning in the tabletop industry has proven to be rewarding. "This is the hardest work I've ever done in my life," Rosanna said. "It's the hardest sourcing I've ever done on a product. [But] it's been a wonderfully refreshing thing for me." - Allison Zisko