Blogs
Blog: Royal Wedding Hoopla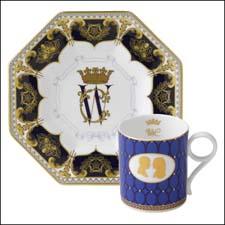 Commemorative pieces from Royal Crown Derby, left, and Wedgwood
LONDON-Whether you've been up since daybreak with your eyes glued to a television or computer screen, or have adopted the 'couldn't-care-less' approach toward royal weddings, there is no denying that Prince William and Catherine Middleton's nuptials this morning sparked a tremendous amount of marketing activity.
The tabletop industry, particularly companies with British roots, embraced the day with commemorative pieces. Wedgwood created a royal wedding mug, plate, trinket box and a satyr vase, in blue, gold and white, with intertwined initials and gold silhouettes of the couple. Royal Crown Derby created a mug and a series of plates, also in blue and white and gold, with intertwined initials. Several other companies followed suit.
Unlike some of the other memorabilia that won't make it past the end of the day (the sick bags come to mind); these pieces have more lasting value, not to mention a rush of British pride behind them. "As a great British company, proud of our heritage, we are thrilled that we will be creating these items to celebrate our future king's wedding day," Simon Willis, sales and marketing director for Royal Crown Derby Porcelain Company U.K., said in television and radio reports earlier this year. "As a leader in the manufacturer of luxury English fine bone china, producing these items exclusively in England, our pieces have a special resonance with this occasion and will become highly collectible."
British pride will no doubt continue as London gears up for its next big event, the 2012 summer Olympic Games. Let the commemorative competition begin. - Allison Zisko