Blogs
Blog: Svend Jensen Makes its Return at Ambiente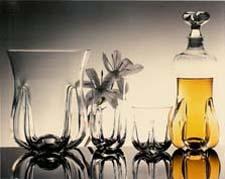 For years glassmaker Svend Jensen has remained out of the tabletop industry spotlight, but not off its radar. The company has not been to a trade show or marketed its name since 1998, although it has been designing, sourcing and selling to all the big name brands on an OEM basis since that time. Company head Per Jensen remains well regarded in the business.
Both Jensen and his company step back into the spotlight this week, returning to the Ambiente Fair in Frankfurt with a stand in Hall 6, four brand names to peddle, and the drive and determination to offer capabilities to a wider audience.
Jensen certainly has the know-how. He got his start in the business in 1950 when his father immigrated to the United States from Denmark and started to import Danish-made glassware. The business grew, began to import from Eastern Europe, and gradually built a sizeable business in the U.S. As a teenager, Jensen got involved in the family business, began traveling the world and learned the glass business "through osmosis," he said.
Competition for the Eastern European glass factories grew, and by the early 1980s Jensen moved on to Brazil, and, ten years later, to China. He now has developed a fully automated factory in China with seven computer-controlled furnaces making both clear and colored handmade glass. "Worker training and my 40-plus years in the glass industry now make us what I believe is the most exciting glass producer in Asia," he said. He is also the business development director of a lead-crystal factory in India.
"I accidentally became a glass designer, and I accidentally became a glass technician," he said. He loves it however, and claims he has "more creative juices than I know what to do with."
In Frankfurt, Jensen plans to introduce hundreds of new designs under the brand names Aurora, Cache, Per Jensen, and, for a select few, Svend Jensen. The time is right, he said. Current consumer interest in mid-century modern designs and repeated requests for full lifestyle collections with a modern sensibility motivated him to get back into the business as a wholesale supplier. He will offer direct import and custom production. He has a portfolio of designs ready but is also perfectly willing to draw and design on the spot (the exact booth location is 6.3.D06). "The doors are open to importers, wholesalers, retailers," he said. "It's going to be the best shopping experience in Frankfurt in terms of flexibility."