Blogs
Blog: Three Cheers for Barware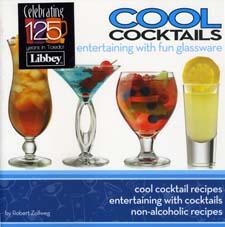 Did you know that the shallow champagne coupe was created by Marie Antoinette so that she could finish her drink without tipping her head back?
I learned that bit of cocktail trivia in "Cool Cocktails: Entertaining with Fun Glassware" by Robert Zollweg, Libbey's creative director.
As the tabletop industry gears up for the New York Spring Tabletop Show next week--replete, no doubt, with lots of beautiful new barware--I thought it worth mentioning Zollweg's latest book. Zollweg has been with Libbey for more than 40 years. As creative director, Zollweg designs new products, keeps an eye on trends and manages the company's trade shows around the world. He has written nine books, many of which center on food trends like tasting parties and craft brews, and more are in the works.
In addition to tips on serving the perfect cocktail, how to stock the home bar and a primer on the various types of liquor, "Cool Cocktails" includes lots of drink recipes and demonstrates the multifunctional aspects of different barware pieces, with plenty of colorful photos to illustrate.
I'll drink to that!-Allison Zisko