Blogs
Blog: Trends from Tabletop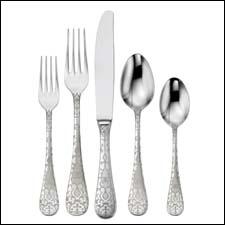 NEW YORK-The New York Tabletop Show, which wraps up today, has been positive, upbeat and trend-forward, with an impressive number of introductions and strategic positioning.
Visual texture was evident in every tabletop classification--there were highly textured and tactile flatware handles, laser etched and diamond-cut glassware and lots of embossed dinnerware. Lacey details, again across all classifications, were prominent, along with other dressmaker designs. Pattern over pattern and the evolution of reactive glazes--to include more intricate designs and handpainted effects--are also central to new dinnerware.
Key colorways include gray (softened by micaceous finishes, the overlay of lacey details, or through a pairing with a neutral such as taupe) and the combination of soft watery blues, such as aqua and teal, with equally soft greens like pistachio and lime.
Florals are still a big deal (big and blowsy, oversized, stylized or outlined), as are nature motifs. Birds are an ongoing motif, particularly the peacock and the owl. Animal prints (cheetahs, zebra, giraffe) have become more mainstream.
All of these feminine details are balanced by a handful of more masculine looks, executed through the use of mixed materials like black leather, tortoise and chrome. The Mad Men influence could be seen in extended barware collections, continued attention to brown liquors (but also beer), a steady stream of new decanters and a return to the saucer-shaped champagne glass.
Many upstairs companies continue to adjust to the changing marketplace in terms of both price points and product design. Denby, for example, has a new Entree program that offers the classic Denby look and quality at a lower price point (achieved through a more "factory friendly" approach). The Harlequin Brights collection, a reinterpretation of its longstanding Harlequin collection, would be available for $39.99 on sale for a four-piece set, the "sweet spot" for new customers, according to President Lynn Okulski. Wedwgood has made all of its white patterns available as four, rather than five, piece sets, while sister company Waterford has added a more contemporary cut to its Lismore pattern (celebrating its 60th anniversary next year) along with eye-catching, Any Warhol-like packaging designed to attract the younger consumer. - Allison Zisko