Blogs
Blogging From the Housewares Show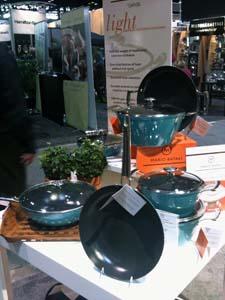 Mario Batali's lightweight cast iron.
CHICAGO--The Housewares Show continues into its second day today packed with numerous product introductions, busy exhibitor booths--and perhaps more importantly--an increasingly optimistic mood among both retailers and vendors.
A new Mario Batali-licensed line from Dansk was among the attention-getting unveilings at McCormick Place. The new line includes Mario Light, a collection of cast-iron cookware that is 50 percent less heavy than traditional cast-iron products.
Helen of Troy is taking licensing to a new level with a line of Twilight hair-styling appliances. Hairdryers, setters and straighteners are geared toward achieving the hairstyles of individual characters in the popular movie series. The line is scheduled to hit stores in the fall, just in time for the next Twilight movie.
De'Longhi USA extended its global partnership with Nescafe to the U.S. market.
The new relationship revolves around a line of pump-driven espresso makers designed to use Nescafe Dolce Gusto capsules. De'Longhi said that the agreement will help it reach into the grocery store channel.
Fagor broke into the cast-iron cookware and cutlery categories with a line from chef Michelle Bernstein. The collection stands out with bright colors.
WMF's Kaiser brand bolstered its bakeware line with a full range of baking shapes for the American market, such as square and round cake pans, muffin pans, insulated cooking sheets and a jelly roll pan.
Global Marketing debuted five cookware lines from its new partnership with German company Woll. Global execs said the induction-ready Diamond's Plus line has received the most attention from retailers at the show.
In storage,Space Bag expanded with collections targeting travel and shopping. New items include a shopping cart caddy and a wash 'n go bag.