Casual Tabletop Strengthens Its Core at Housewares Show
Posted on 
March 8, 2010
 by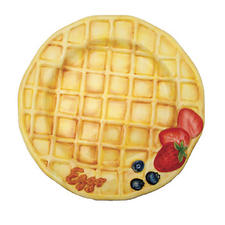 By Allison Zisko
Buoyed by a strong start to the year and a perceived improvement in consumer mood, tabletop vendors are heading enthusiastically to the International Home & Housewares Show in Chicago this month.
Mindful of the economy, vendors remain focused on offering value, "better products at an affordable price" as one manufacturer called it, as well as design-oriented, fashionable items.
"[At] this year's show we expect a lot of new ideas and products," said Kevin Wellendorf, director of retail marketing for Anchor Hocking. "Two thousand nine was a quiet year, [with an attitude of] 'let's wait and see.' Two thousand ten is poised to bring interest in new ideas and products to drive business and opportunities. The market is ready for companies to reinvest in new assortments and collections and bring new products to market."
Important niches of business continue to include pieces geared toward entertaining, such as casual stemware and serveware; pickup gift items like mugs and dessert sets; and what Sal Gabbay, president of Gibson, calls "core basics," which he said includes "innovative approaches to whiteware as well as solid colors and reactive glazes which are still essential to the fashion home."
One of the key fashion themes is color -brights on one end of the spectrum to serene neutrals on the other.
"We feel bright, happy colors are very trend-forward," said David Zrike, president of The Zrike Co. Kelly green and periwinkle blue, some of the key colors in the company's new Vera line, are strong, while orange and violet will also be important, according to Zrike.
Turquoise is Pantone's color of the year.
"Color and texture continues to be increasingly important in housewares," said Irv Zakheim, president of Zak Designs. "Now, though, consumers are integrating multiple color stories into their homes. This has manufacturing moving in many different directions, which gives consumers the kind of color choices they're demanding."
The need for sharp price points has dominated most business discussions over the past year, and manufacturers have adapted accordingly with a variety of approaches.
Gibson has developed a "12 + 4" plan that gives retailers the option of buying 12 pieces of dinnerware and the four mugs separately, combining the flexibility of open stock with the convenience of packaged sets.
Libbey will be launching several eight-piece beverageware sets that give the consumer the freedom to choose the size she wants rather than combining two sizes in a 16-piece set, as it has done in the past. "The eight-piece configuration lowers her initial out-of-pocket expense, lets her choose the size she wants, and allows her to easily replace or add more pieces of her favorite size," said Greg Pax, consumer marketing manager of Libbey.
The most important thing in terms of pricing, said David Mackrell, senior vice president for dinnerware and glassware at Mikasa and Pfaltzgraff, is "palatable price points based on design. The most inexpensive set is not what will sell. It has to be a value. For example, a set that looks like it should retail for $80 now can retail for $50."
Manufacturers are also examining their production processes for potential cost savings. "We're looking at new ways to pack more efficiently, remove and reduce raw materials, and streamline the supply chain," Wellendorf said. "This sustainable approach to the business has enabled us to combat cost increases and pricing pressures without removing pieces [from sets] and reconfiguring sets."
advertisement