Chef Report: Chefs Dish on Their Favorite Products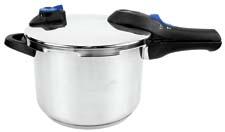 By Allison Zisko
Parents aren't supposed to play favorites, and chefs aren't supposed to either, but they're only human, and some chefs tend to gravitate to a particular piece in their licensed line.
Mario Batali actually has two favorites, made by Dansk. "Our Dutch oven is a perfect example of great cooking quality and versatility," Batali told HFN. "The deep lasagna dish also has great versatility--while its depth helps create the perfect lasagna, with no spill over, it is also a great roasting pan for pork or chicken."
Cat Cora likes the convenience of the Cook-'N-Serve she developed with Starfrit. "I love [it] as it goes from oven or stovetop to table in its beautiful bamboo trivet. Perfect for those one-pot meals with the kids, yet elegant enough to use several pieces as centerpieces for entertaining."
Marcela Valladolid, who designed her tabletop and serveware collection in collaboration with Prima Design, wanted to highlight her Mexican culture in the collection. The Otomi line is reminiscent of designs fashioned by the Otomi Indians native to Mexico, and it is one of Valladolid's favorite patterns. She is most excited about the Otomi cake stand, "a must", she said, for the chocolate flan she always makes.
Being a big burger and pizza fan, Guy Fieri really likes the pizza wheel, big burger turner and meat tenderizer he created with Lifetime Brands, according to Mary Regan, chief marketing officer for cookware, bakeware, cutlery and cutting boards. "They resonate with his style of cooking," she said. But he cited the lightweight cast-iron skillet as his favorite during the International Home + Housewares Show in March for its functionality, according to Regan. "He really loves that piece. If you have to have one piece in the home, that is the piece he gravitated to."
George Duran does not have a branded collection, but he has worked with Imusa for more than three years showing people how to use Imusa products. "I am enamored with the Imusa pressure cooker," he said. "Before working with Imusa I never dared touch the hissing beast. But I began developing recipes for them and learned that there is nothing safer than Imusa's new generation pressure cookers. It saves time and cooks healthier delicious meals. Seriously, caramelized short ribs in 30 minutes instead of three to four hours? What else could you ask for?"--Andrea Lillo contributed to this story
advertisement