Forty One Madison Adds Showrooms, Announces Future Show Dates
Posted on 
February 28, 2011
 by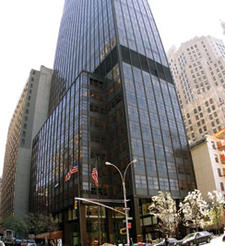 NEW YORK-Five permanent tabletop showrooms have been added to the roster at Forty One Madison Avenue in time for the New York Tabletop Market April 12-15. "We're nearly at capacity," said Laurie Burns, senior vice president and director of Forty One, "which tells its own story about the vitality and robustness of the industry right now."
Newcomers include Michael Aram, Prima Donna Designs, Maxwell & Williams, Q Squared and Cristal de Sevres.
Michael Aram is located in a 4,000-square-foot space on a newly renovated eighth floor. "Our U.S. and international growth has been staggering, and it became evident that we needed a proper showroom," said Sebastian Herald, Michael Aram's chief executive officer. "Opening our showroom at Forty One Madison feels like we're rejoining the tabletop industry. Not only is the location beautiful, it's the epicenter of the tabletop industry. And, for us, it's an act of solidarity, putting us among the key players, like WWRD, for whom we design a range of products." Aram's sales, marketing, public relations and visual teams also will be based in the new Forty One Madison space.
Though Prima Donna Designs has long been based on the eighth floor, its showroom has benefitted from the full-floor renovation with a 50 percent space increase to spotlight its growing collections of fashion-forward glass tableware and accessories. "We're very enthusiastic about the move into our newly built and expanded showroom, "said Evan Hakimi, company executive. "The added space will help accommodate Prima Donna's growing tabletop collections. Forty One Madison is the country's premier Merchandise Market, and we are delighted to call it our home."
Maxwell & Williams, a "designer homewares" brand, is based in Australia and is bringing its distinctive modern look here via a distribution partnership with Fitz & Floyd. The collections will be on display on the sixth floor in its own 2,500-square-foot space neighboring Fitz & Floyd as well as the Lauren, Ralph Lauren Home collection. According to Steve Baram, president and CEO of Fitz & Floyd, "The Spring New York Tabletop Market not only is the first time the Maxwell & Williams brand will be launched to the trade, but it's the first time it will be shown in America. It's a very exciting addition and we never considered anywhere other than Forty One Madison to show it because this is THE tabletop destination in the U.S."
Q Squared, which opened its nineteenth floor showroom earlier this year to take advantage of the New York Gift Show, will experience its first New York Tabletop Market. The company's signature is a new generation of melamine tableware designed in Italy and produced in China.
Also on the nineteenth floor is Cristal de Sevres. The French crystal resource debuted at Forty One Madison this past fall in a temporary space, but has made it official with a permanent showroom. It again is sharing its space with La Mediterranea recycled glass tableware.
Auratic, which awaits the completion of its permanent showroom on the fourteenth floor, it is set up for business in a temporary space on the seventeenth floor. And, as was recently announced, Daum and Haviland will remain at Forty One Madison on the 10th floor, following their split from Lalique.
In addition, Forty One Madison has established dates for The New York Tabletop Market for the next several years. In 2012, shows will be held April 10-13 and October 9-12; in 2013, April 16-19 and October 15-18; in 2014, April 22-25 and October 21-24; and in 2015, April 14-17 and October 13-16.
"Whether you call it The New York Tabletop Market or The New York Tabletop Show [The New York Tabletop Market and The New York Tabletop Show are both registered by Forty One Madison Avenue], whether you insert fall or spring into its name, Forty One Madison is proud to present this event and bring all sides of the industry--both sellers and buyers--together, enriching each season, as well, with special programming, professional learning opportunities and valuable social networking opportunities," Burns said.
advertisement
advertisement
Tweets by @HFNmag