Forty One Madison Readies for Tabletop Market
Posted on 
August 4, 2010
 by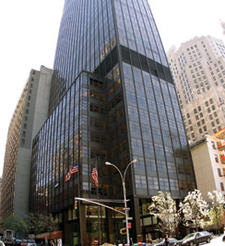 NEW YORK-Forty One Madison has lined up a full schedule for both buyers and manufacturers during the New York Tabletop Show, scheduled for Oct. 12-15.
Heading up the schedule is the Oct. 13 breakfast seminar New Womenomics: What Women Want & How To Reach Them, Teach Them & Speak Their Language. Delivering the seminar address will be Dannielle Kyrillos, editor-at-large of the Web site DailyCandy. In addition to her role with DailyCandy, Kyrillos is a respected brand consultant and entertaining expert who frequently makes guest appearances on CNN, CNBC, The Today Show and Rachael Ray. She will be seen this Fall as a judge on Bravo's Top Chef: Just Desserts.
"We're enormously enthusiastic to have Dannielle present her perspective on 'Womenomics' and help all of us in the tabletop industry better understand how to effectively tap into the profit potential it represents," said Laurie Burns, Forty One Madison's senior vice president and director.
Seating is limited for the program; reservations are recommended, at swainberg@rudin.com, or 212-686-1203. Breakfast will be served 8-8:30 a.m. Kyrillos will take to the podium from 8:30-9:15 a.m.
Also, House Beautiful editors will transform the Forty One Madison lobby with engaging table settings that are guided by an entertaining theme echoing the pages of the upcoming November issue.
"House Beautiful has long demonstrated its support of the tabletop industry with its regular monthly 'Tablescapes' feature," Burns said. "So we welcome the magazine's talented team, and invite all market attendees to view first hand and be inspired by their imaginative vignettes."
Additionally, Bridal Guide returns as host of the Caffe on Level A, where it will serve up light treats reflecting a Southern Hospitality theme. This popular and convenient Forty One Madison meeting spot for show goers will be open Tuesday 10 a.m.-4 p.m.; Wednesday, 12-4 p.m.; and Thursday, 10 a.m.-2 p.m.
For more information on Forty One Madison and the New York Tabletop Show, visit 41madison.com.
advertisement