Forty One Madison Welcomes New Tenants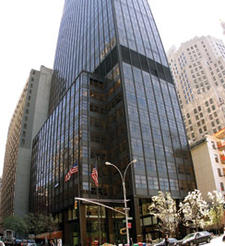 NEW YORK-Two brands will open showrooms at Forty One Madison, and a full-floor tenant is expanding into additional space, according to the permanent showroom building. All three will be ready to welcome buyers when the New York Tabletop Show gets underway later this month.
Vetri delle Venezie, an Italian glass brand entering the U.S.
market
, has taken space on the 8th floor. On display in the 1,000-square-foot location will be a full range of tabletop, drinkware and serveware.
"We exhibit at every international show, and now it's time for us to have greater exposure in the U.S. market, build recognition for the brand and bring Italian made affordable luxury to the American table," said Antonella Martina, who's heading the U.S. foray for parent company Vetrerie Riunite S.p.A. "Forty One Madison was our choice to establish our base of operations because it attracts all the right buyers who we want to meet."
Vietri, known for its handcrafted Italian dinnerware, has joined the Forty One Madison community with a 1,000-square-foot showroom on the 22nd floor, where it will introduce its first stoneware line. "We are really excited to be back at the Tabletop Show, and especially at Forty One Madison where there's excitement and energy in the building," said Susan Gravely, Vietri founder and CEO. "Our presence at Forty One lets us share our brand with major stores as well as specialty stores, and with press from here and abroad."
The Jay Companies, which occupies the entire 12th floor, is expanding with an additional showroom dedicated exclusively to its growing collection of candle designs. The 19th floor, 1,000-square-foot space is allowing Jay to bring in more new candle products. "The value of Forty One Madison is unsurpassed," said Michael Jay, company vice president. "The level of buyers who travel the floors of this building made us realize that this is where we need to be, so I'm pleased we're able to add the new space for our growing candle business."
Laurie Burns, Forty One Madison's senior vice president and director, said, "With even more resources here than ever before, and just about every top brand in the industry covering the gamut from luxury to the best value, the upcoming New York Tabletop Market is shaping up to be well worth every retailers' time."
Rem-Fit Unveils Innovative Smart Pillow at Las Vegas Market

   More Videos
Tweets by @HFNmag