Blogs
Freshness and Energy at Ambiente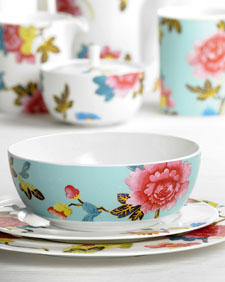 FRANKFURT, Germany-The Ambiente fair here in Frankfurt winds down today, capping five days of fresh, design-led product introductions and a general feeling that business has noticeably improved since last year's show. Manufacturers across all product categories presented new products in fashionable colorways, played with new and eye-catching finishes, and tweaked products to make them more intuitive, practical, easier to use, and better for the environment.
Pattern and decoration is back in tabletop, and themes from nature, particularly botanicals, continue to prevail. Purple was a big color here in Frankfurt. Gold embellishment and metallic finishes (also prevalent in several housewares products) were common. Diamond cuts and diamond-quilted looks in glassware and ceramics were popular.
In the glassware category, the number of food storage items continues to grow. In glass beverageware, the temperature-retaining qualities of doubled-walled technology was featured in many new tumblers and glass serving pieces. New glass and crystal stemware patterns featured more decoration and etching than in the past, and dripless decanters are in vogue.
In the housewares category, manufacturers tweaked material compositions and finishes; there was a prevalence of ceramic cutlery and ceramic-coated cookware, many cookware bottoms were reformulated for use with induction cooktops, and pressure cookers have evolved with features that make them even easier and safer to use.
Foreign attendance at the show increased over last year, according to a preliminary and unofficial survey by show owner and organizer Messe Frankfurt. A cross section of American exhibitors said they met with many American department and specialty store buyers, but did not see mass merchants or mid-tier players. Many reported meeting with a wide range of buyers from other countries. - Allison Zisko